NYCB Theatre at Westbury | Westbury, New York
Legendary singer-songwriter Gordon Lightfoot comes to NYCB Theatre at Westbury on Friday 10th August, 2018! The renowned folk performer will be performing classic hits from his prolific and illustrious career, including hits like "If You Could Read My Mind" and "Rainy Day People"! Celebrating 60 years in the industry this year, Lightfoot remains one of folk's most beloved voices – don't miss your chance to see him live!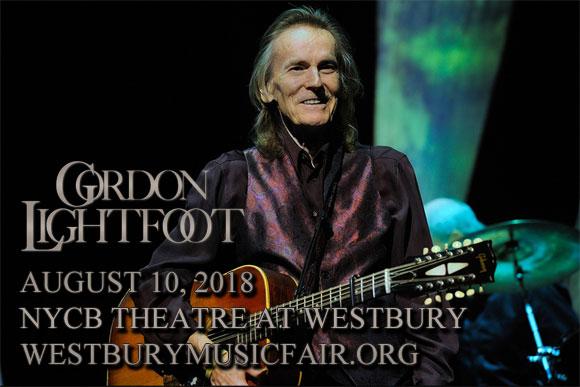 Internationally renowned Canadian folk singer and songwriter Gordon Lightfoot is known as one of the definitive voices of 1960s and '70s folk. Often referred to as Canada's greatest songwriter, Lightfoot made waves throughout the era with hits singles like "Ribbon of Darkness" (1965), "Early Morning Rain" (1966), "If You Could Read My Mind" (1970), "Sundown" (1974); "Carefree Highway" (1974), "Rainy Day People" (1975), "The Wreck of the Edmund Fitzgerald" (1976) and many others. He has also written for a variety of artists, including: Elvis Presley, Johnny Cash, Hank Williams Jr., Neil Young, Judy Collins, Barbra Streisand, Johnny Mathis, Harry Belafonte, Scott Walker, Sarah McLachlan, Eric Clapton, Peter, Paul and Mary, Glen Campbell, Nico, Olivia Newton-John and Paul Weller. In 2012, Lightfoot was presented with the Queen Elizabeth II Diamond Jubilee Medal by the Lieutenant-Governor of Ontario, and later that year was inducted into the Songwriters Hall of Fame.