Westbury Music Fair | Westbury, New York
Celebrate 'hashtag-Flashback-Friday' with some old-school R&B music with none other than the 'Empress of Soul' herself, Gladys Knight.  Roll the red carpet down the halls of the Westbury Music Fair (NYCB Theatre)  Westbury, New York, on October 18, 2013 as Gladys Knight walks you down memory lane  as she dishes out her signature silky and soulful hits.  Joining Ms. Knight are R&B gents Mint Condition.  A throwback day like no other!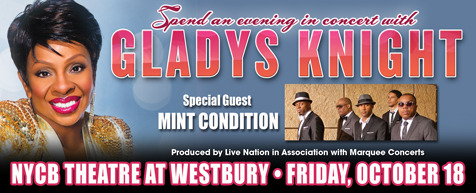 "What a journey this has been, and every moment I'm in awe that I'm still here," says Gladys Knight.  Indeed, she has come a long way from bagging the major prize at the age of 7 in 1952, from  Ted Mack's  Original Amateur Hour TV show.   Gladys Knight,  achieved fame and iconic recognition mostly for her long-spanning career with her group Gladys Knight & the Pips.  During the 60s and the 70s, they spawned a string of world renowned hits which are now considered as golden classics.    "I Heard It Through the Grapevine",  "Friendship Train" (1969), "If I Were Your Woman" (1970), "I Don't Want To Do Wrong" (1971), the Grammy Award winning "Neither One of Us (Wants to Be the First to Say Goodbye)" (1972), and "Daddy Could Swear (I Declare)" (1973), are just some of the hits that made  Gladys Knight & the Pips a household name.  Her career with the group and as a solo artist gave her a total of seven Grammy Awards, and inductions into the Georgia Music Hall of Fame and the Rock And Roll Hall of Fame.
See the beauty of life and cherished memories through the music of Gladys Knight.  Don't let this magical moment pass you by…Get your tickets now!