NYCB Theatre at Westbury | Westbury, New York
Oh noooo!!! Not the Funk! Yup, George Clinton, the father of the funk mothership, and Parliament Funkadelic are spreading those psychedelic vibes to the NYCB Theatre at Westbury on Saturday, October 28, 2023. It is going to be a truly out-of-this-world experience, and on stage, there will be a full band complete with the hottest grooves from masters of the guitar, horns, and drums. They're going to tear the roof off this sucker, and you have no choice but to be part of all the action as they take on a funk-filled journey complete with cheering crowds and dancing feet. You can purchase your tickets right here by smashing the "GET TICKETS" button above, but do it now because an event this hot won't be available for much longer. Who needs the funk? You Do! So get yourself ready for a truly memorable event.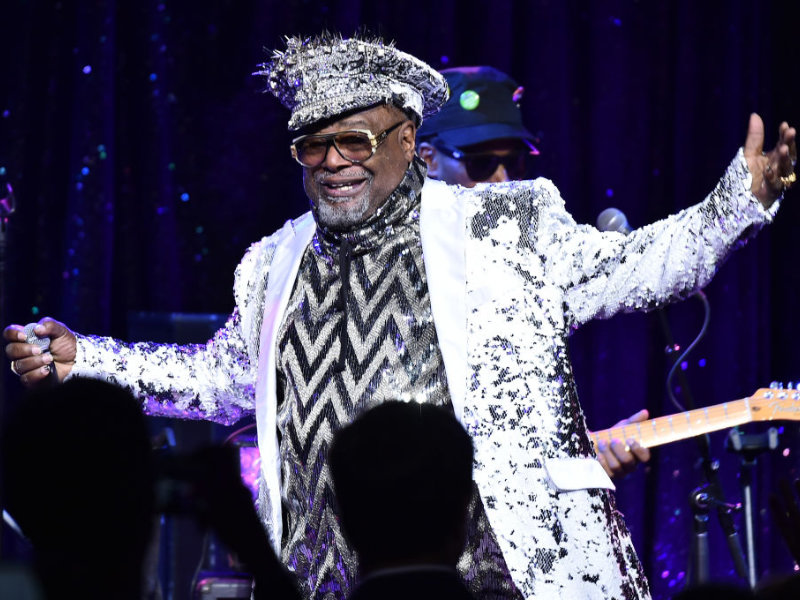 George Clinton's career spans five decades, and in that time he has revolutionized funk music with his band Parliament-Funkadelic and their rather incredible ability to get crowds amped up. Their penchant for theatrics and unparalleled musicianship have earned them a place in the Rock and Roll Hall of Fame and a Grammy Lifetime Achievement Award.
They became one of the most innovative and influential bands in funk history because of the way they incorporated psychedelic soundscapes and social commentary into their music, and their stage presence is a feast for the eyes, with elaborate staging and some of the most superb costuming.
Clinton's earlier music was cited as an influence by many hip-hop and rap artists of the mid- to late-1980s. Many artists, like Dr. Dre, a pioneer of the G-funk sound, frequently sampled Clinton's work.
There were originally referred to as two separate groups under the Parliament and Funkadelic monikers. All the musicians in Clinton's inner circle started being referred to by the combined name we know them as today. P-Funk would also be another name for them.
George Clinton was at the forefront of the music industry, and Parliament-Funkadelic's 1975 album, "Mothership Connection," is a testament to his out-of-the-box thinking. At the time, his idea was to take black people and put them in positions they never thought they would be in, so naturally, the idea of a pimp sitting in a Cadillac spaceship was born.
Their impact has been so profound that many artists, like Snoop Dogg, still honor them today and The Red Hot Chili Peppers actually dedicated a part of their video for 2006's Dani California to them as a tribute.
They have achieved legendary status, and the dance floor is always packed when they perform. Whether you are a new fan or a seasoned veteran, getting to this show will be just as exciting as seeing them for the first time. Expect a huge stage filled with the most talented musicians and the most eye-catching visual effects, creating an unforgettable experience that will leave you wanting more. Get your tickets here and now for this truly once-in-a-lifetime opportunity.