NYCB Theatre at Westbury | Westbury, New York
This concert has been dubbed as "This isn't just a live show, it's an "EXPERIENCE!". Selena, an iconic Latina superstar who was gone too soon, has never been forgotten in the hearts of many. Many of her fans truly cherish her music and memories, but for new generation Latina rising star Genessa Escobar, she has taken her aspirations inspired by the memories and the music of Selena come alive on-stage. This dream will now become a reality via the Genessa & The Selena Experience at NYCB Theatre at Westbury on Saturday 28th March 2020. It will be a night dedicated to celebrating the music of Selena and the triumphs of Latin music and artists that have made a remarkable impact all over the world. This will not only be a night to remember but an experience to be treasured for a lifetime! Book your tickets now!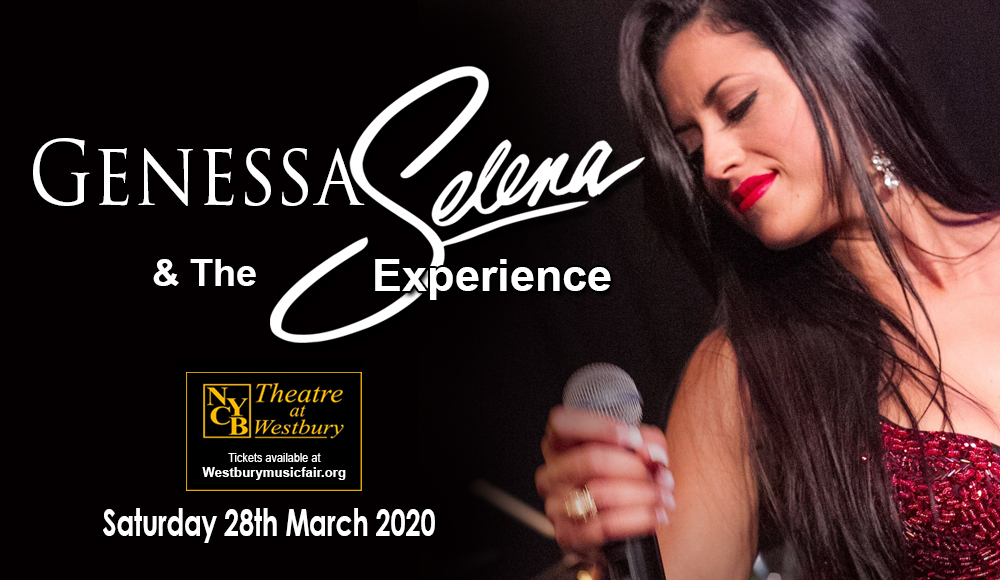 Selena Quintanilla-Pérez, simply known as Selena and later on went by the monikers "Queen of Tejano music" or the "Mexican Madonna", had a local cult-following and was poised as a rising star with a breakthrough album on the brink of international success, until a star-crossed incident caused her untimely death in 1995. The release of posthumous crossover album, "Dreaming of You (1995), debuted atop the Billboard 200, making Selena the first Latin artist to do this feat. Selena was named the top-selling Latin artist of the 1990s decade by Billboard Magazine, and ranks among the most influential Latin artists of all time.
Twenty years after Selena's passing, a young aspiring singer and a group of incredible musicians lived out their childhood dreams and took memories of Selena and made it come alive onstage. This is the beginning of "Genessa & The Selena Experience". From her looks, fashion style, and most importantly, the music, "Genessa & The Selena Experience" truly captured the spirit, the charisma, the passion, and the energy of the beloved Latina superstar.
"Genessa & The Selena Experience" has become a buzzword and now a household name, as they appeared on National Television for TELEMUNDO "Un Nuevo Dia," local television networks such as; TELEMUNDO NY "Acesso Total," and News 12. They were featured as the COVER STORY for New York newspaper "NEWSDAY", with a 2 page spread, as well as "TIME OUT NEW YORK MAGAZINE."
Come and experience it for yourself. This is not just a show, it's an experience! Book your tickets now!