NYCB Theatre at Westbury | Westbury, New York
For the third night in a row, the ever-fabulous Frankie Valli comes to NYCB Theatre at Westbury on Sunday 18th October for a night of sensational music and spectacular entertainment! A seasoned professional, Valli inspires as much love and excitement in his fans as he ever did, and still knows how to get a crowd going!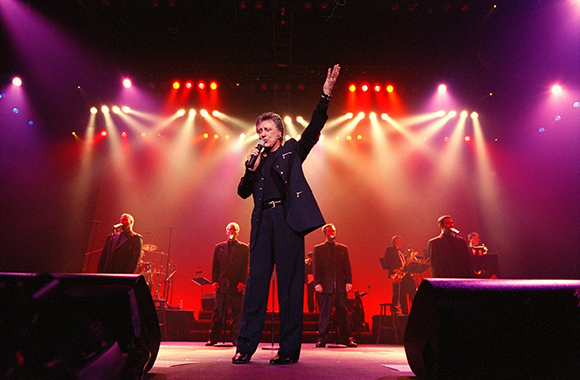 Famed for his characteristically resonant falsetto, Frankie Valli has been a beloved figure of American pop for over 60 years. Commencing his professional singing career in 1951 with the Variety Trio, Valli released his first solo single after the group disbanded in 1953. Around this time, Valli formed The Variatones, who went on to release several singles and one album's worth of tracks, including minor hit "You're the Apple of My Eye" in 1956, and later became The Four Seasons. Valli charted 29 Top 40 hits with The Four Seasons, one Top 40 hit under The Four Seasons' alias 'The Wonder Who?', and nine Top 40 hits as a solo artist. As a member of The Four Seasons, Valli's number-one hits included "Sherry" (1962), "Big Girls Don't Cry" (1962), "Walk Like a Man" (1963), "Rag Doll" (1964) and "December 1963 (Oh, What a Night)" (1975). His cover of the song "Can't Take My Eyes Off You" reached number two in 1967. As a solo artist, Valli scored number-one hits with the songs "My Eyes Adored You" (1974) and "Grease" (1978), which was the opening theme to the hit film of the same name.