NYCB Theatre at Westbury | Westbury, New York
Legendary king of falsetto and the inspiration behind the internationally acclaimed stage sensation Jersey Boys, Frankie Valli, comes to NYCB Theatre at Westbury on Friday 16th October for three nights of true American pop and all the hits of his longstanding, illustrious career!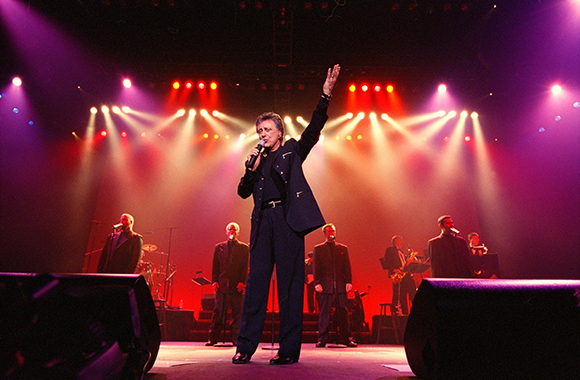 Known for his unusually powerful falsetto voice, Frankie Valli has been a traditional pop icon for over 60 years. Valli started his career in 1951 with the Variety Trio, and subsequently released his first solo single after the group disbanded in 1953. Around this time, Valli formed The Variatones, who went on to release several singles and one album's worth of tracks, including minor hit "You're the Apple of My Eye" in 1956, and later became The Four Seasons. Valli charted 29 Top 40 hits with The Four Seasons, one Top 40 hit under The Four Seasons' alias 'The Wonder Who?', and nine Top 40 hits as a solo artist. As a member of The Four Seasons, Valli's number-one hits included "Sherry" (1962), "Big Girls Don't Cry" (1962), "Walk Like a Man" (1963), "Rag Doll" (1964) and "December 1963 (Oh, What a Night)" (1975). His cover of the song "Can't Take My Eyes Off You" reached number two in 1967. As a solo artist, Valli scored number-one hits with the songs "My Eyes Adored You" (1974) and "Grease" (1978), which was the opening theme to the hit film of the same name.