NYCB Theatre at Westbury | Westbury, NY
Songs about love, peace, and happiness have never gone out of style. One of the stalwarts of modern soul and soft rock music is making sure that feel-good tunes live on is Felix Cavaliere. He's at it again! Felix Cavaliere's Rascals are spreading good vibes and you'll get mega doses of it as they perform live at the NYCB Theatre at Westbury on Saturday 2nd November 2019. From "Good Lovin'" to "Groovin'", Felix Cavaliere's Rascals will shake things up on stage and rock the house. If you came looking for tickets, you've come to the right place. Just click 'buy tickets' on this site, and with a few more easy clicks, you can look forward to a magnificent musical experience. Book your tickets now!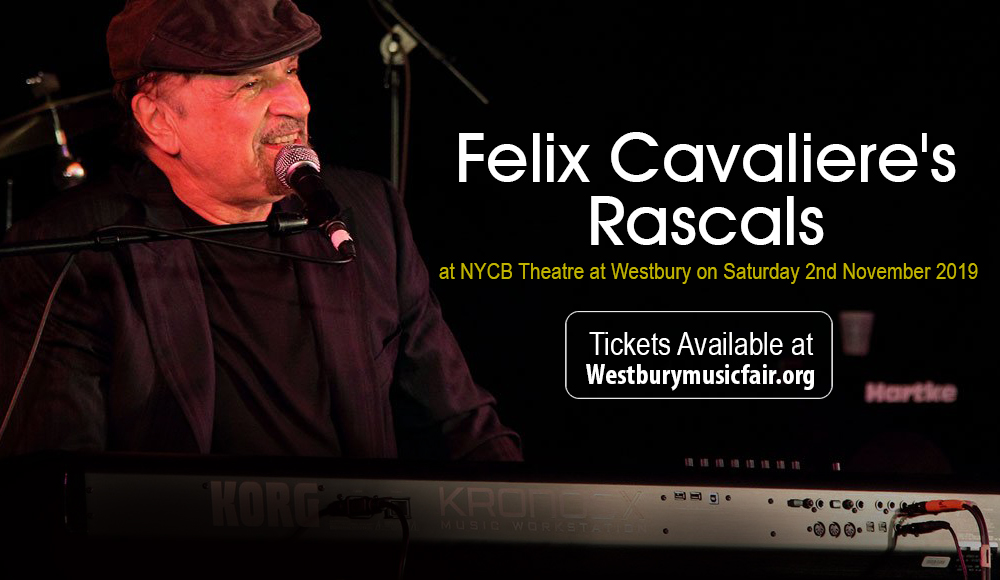 One of the best 'blue-eyed soul' group to come out of the 1960s is Felix Cavaliere's Rascals. For half of a century, this group is still at the top of their game. Their illustrious 50-year career includes the Rock & Roll Hall of Fame, Songwriter Hall of Fame, Vocal Group Hall of Fame, and Grammy Hall of Fame awards. As they return to the live concert stage in this day and age, you can get much more than a bang for your buck. Their masterful blend of veteran musicianship and unbeatable onstage charisma are truly priceless!
"I had an epiphany while performing in Hawaii last year…It's not about me – it's about the fans. It's about the music.", says Cavaliere.
The Rascals have 17 Top 20 hits, seven Top 10 hits, and three No. 1 hits up on their sleeves — "I've Been Lonely Too Long," "Groovin'(No. 1 in 1967), "How Can I Be Sure," "A Girl Like You," "A Beautiful Morning," and "People Got to Be Free" (No. 1 in 1968), "You Better Run", as well as Cavaliere's solo hits — "A High Price to Pay", "I've Got a Solution", "Future Train", and "Funky Friday". In addition to that rich discography, one of Felix's biggest hits also include "Peppermint Twist". Recorded and released before hejoined the Rascals. Felix was a part of the group the Joey Dee and the Starliters.
The buzz of excitement is getting louder by the minute. Beat the clock and get your tickets before it runs out.