Westbury Music Fair | Westbury, New York
Celebrate life and the victory of Jesus Christ by joining Father Charles and Laurie Mangano in a day of prayer, worship, and singing praises to God, the Almighty Father.  Father Charles and Laurie, are set to lead this prayer and worship music concert on the 6th of December 2012 at the Westbury Music Fair, New York.  Gates open at 7:00 pm.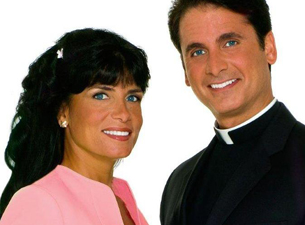 Father Charles Mangano is a Catholic priest and founder of the Mater Dei Music Ministry.  Shortly after college, Father Charles received a divine calling that led him to pursue seminary studies, which led him to dedicate his life to the priesthood.  Music has been his personal passion all those years even before he entered the seminary.  Father Charles knows in his heart God has given him a gift, and recognizes that he is just a mere instrument used by God to lead people to the faith and spread the good news of God's love through music.
His sister, Laurie, is a wife, mother, and has had a successful career as a model, appearing in the likes of  the New York Times and Bride Magazine.  She was also once a budding pop star who enjoyed performing and singing pop music.  In spite of these, she felt empty and unfulfilled.  During her childhood, she sang with Father Charles during church events and family get togethers. She then realized that singing praise songs with her brother and being involved in his music ministry was what she needed to make her life come in full circle.
Together, this brother and sister tandem have been singing and worshipping together for a over a decade.  They have released CDs and DVDs featuring their renditions of contemporary Christian music, and have performed in countless sold-out venues.  They also host their own television shows on Long Island's Telecare Network and Brooklyn/Manhattan's The Prayer Channel.
"Sing to him, sing praises to him; tell of all his wondrous works!" -Psalm 105:2  This has been the mission of Father Charles and Laurie — bringing hope, faith, and inspiration through songs of praise.  Join them in this spiritual endeavor and be blessed with the gift of song.  Secure your seat now in this glorious and joyful event!