NYCB Theatre at Westbury | Westbury, New York
He is a rare breed. One of the few artists whom Latin artists and music lovers esteem as the authority in flamenco music. The name Diego El Cigala also evokes excitement as he is one of the sought-after performers in the said genre. Latin music aficionados in this side of town have one grand reason to dance for joy. Diego El Cigala is set to perform at NYCB Theatre at Westbury on Friday 22nd November 2019. Savor the flavors of flamenco music, blended with traditional Spanish styles like Bolero and Tango, relished with modern jazz, classic flamenco and Cuban melodies and panaches. A remarkable concert you should not dare miss!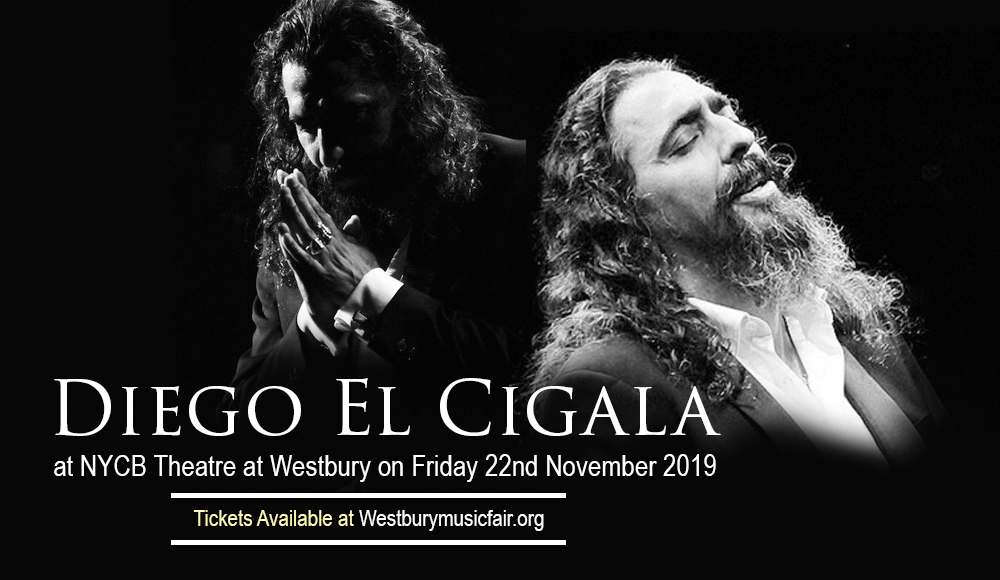 Diego El Cigala is recognized as one of the pioneers and innovators of music rooted in the culture of Spanish Gypsy flamenco. He seamlessly blends it with elements of bolero, tango Afro-Caribbean jazz, modern jazz, and Cuban melodies and panaches, transcending musical genres, languages and generations.
Diego El Cigala has been lauded so much by the press and music critics, singing all-praises for his ever-evolving and innovative sound.
"When I listen to him, it warms my heart." – Paco De Lucia
"a conjurer of impulsiveness and abandon." – The New York Times
"Cigala is able to "enter flamenco into conversations with other traditions without ever sacrificing its distinctive identity." Josh Kun, New York Times
"one of the great new cross-pollinating documents of Latin music." – Ben Ratliff, The New York Times
"Spanish flamenco with the equally gritty and powerful South American tango." – The Observer, UK
"It works effortlessly….it's a cross-genre type thing. It's as if John Legend made a blue grass album and killed." — Felix Contreras, NPR
Diego El Cigala has now recorded and released 8 CD albums and has bagged two Grammys awards and scooped up 5 Latin Grammy nominations.
A concert truly worth the investment of one's time and money, a consummate artist ought to be witnessed and experienced by many generations. Catch this phenomenal performance while you can. Book your tickets now!