NYCB Theatre at Westbury | Westbury, New York
Acknowledged by Globeln as "one of top ten most influential spiritual leaders around the world" and described by TIME magazine as "one of the top 100 heroes and icons of the century" and "the poet-prophet of alternative medicine," influential thinker and expert in holistic medicine Deepak Chopra comes to NYCB Theatre at Westbury on Thursday 18th November 2017 to discuss the Future of Wellbeing! Don't miss your chance to learn from Chopra's roadmap for "higher health," based on the latest findings in both mainstream and alternative medicine!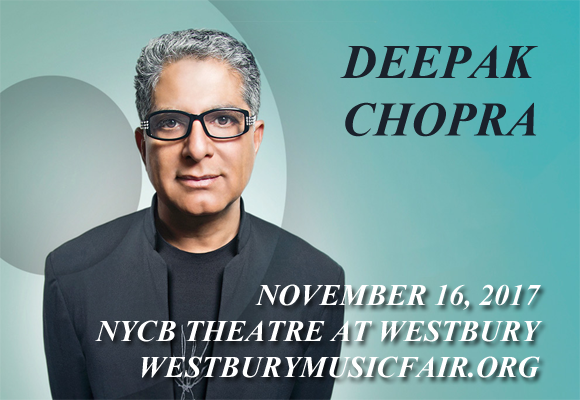 Author of over sixty-four books, translated into over eighty-five languages, American author, public speaker, alternative medicine advocate, and prominent figure in the New Age movement Deepak Chopra has written nineteen New York Times bestsellers in both the fiction and nonfiction categories. Originally studying medicine in India before emigrating to the United States in 1970, Chopra became involved in the Transcendental Meditation movement in the mid 1980s and went on to  gain a following in 1993 after he was interviewed on The Oprah Winfrey Show regarding his books.