NYCB Theatre at Westbury | Westbury, New York
This is not a drill. Urban contemporary gospel group, Commissioned, are embarking on a reunion tour across various cities and states. As a group and even as solo artists, they continue to heed the call to preach the Christian gospel through music. This reunion may not be their first, but each time they re-group, their most loyal followers get a renewed sense of excitement, and they attract a new generation of ears eager to listen and hearts impassioned to receive the gospel through songs of praise and worship. It's been 15 years since their last performance together. Yet Fred Hammond, Marvin Sapp, Keith Staten, Mitch Jones, Karl Reid, Michael Brooks, and Michael Williams are powered by their ultimate source of zeal and zest for singing, praising, worshiping, and bringing a fellowship of believers through their music. Be glad and rejoice on this date as the Commissioned Reunion performs live at the NYCB Theatre at Westbury on Wednesday 20th November 2019. Book your tickets now!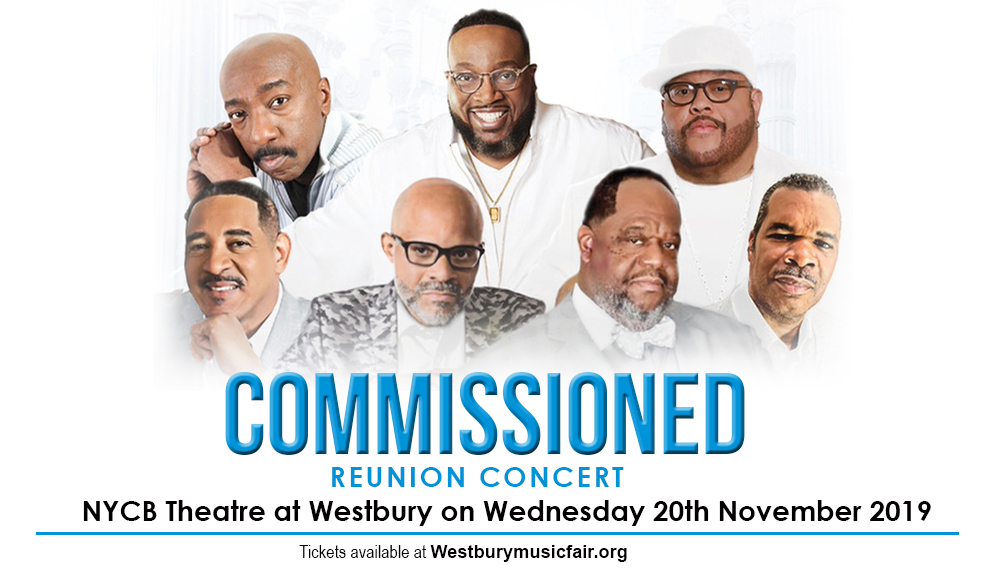 From the rough areas of the hoods of Detroit, these boys found each other with voices coming together to proclaim the Christian gospel through songs of praise and worship. And with barely enough resources to record and release one album, they ended up with releasing 12 to date, and counting… The power of the great commission, as stated in the Bible was really at work in the lives and the music careers of these young men from Detroit. Hence, they named themselves Commissioned.
Commissioned is noted for fusing the soaring vocals and tight harmonies laid on an R&B urban groove, and incorporating spiritual, inspirational, and Christian gospel messages and truths into their music. The secular and the spiritual — mixing both genre was the subject of many debates among religious institutions. Yet Commissioned have overcome such resistance and successfully delivered the message and the music across. "Nobody was making youth oriented gospel in 1985 when the band dropped the debut album I'm Going On;, says vocalist Karl Reid. "The Commissioned style came forth on that album in tracks such as "I'm Going On" and "You've Got A Friend." The Commissioned managed to release twelve album in a span of seventeen years of their careers, which included bagging multiple Grammy, Stellar, Dove, and BET Awards.
This is a day of praise! Be glad and rejoice because you could secure your spot in this celebration by just clicking 'buy tickets' on this website. Hurry, book your tickets now!