NYCB Theatre at Westbury | Westbury, New York
One of the leading voices in the 1990s alt-rock movement, Collective Soul are still going strong and they're headed to NYCB Theatre at Westbury on Wednesday 17th October 2018! Fresh from an extensive co-headlining summer tour with fellow '90s icons 3 Doors Down, these multi-platinum-selling performers know how to get a crowd going and with a new album in the mix, there will be brand new material for fans to enjoy too! Book your tickets now and get ready to "Shine"!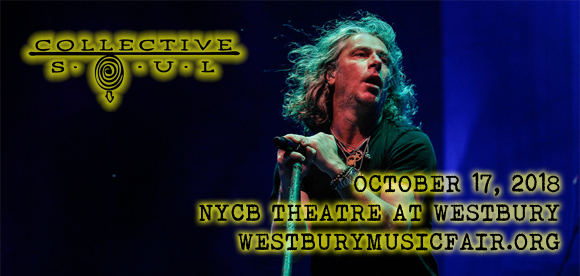 Georgia-based American alt-rock band Collective Soul first came to prominence in 1993 with the release of their debut album Hints, Allegations and Things Left Unsaid, which achieved double-platinum sales and launched the single "Shine". "Shine" became the #1 Album Rock Song of 1994, and won a Billboard award for Top Rock Track. It quickly became a radio staple and an unofficial emblem of 1990s alternative rock. The group's self-titled second studio album was released the following year, charting for 76 weeks on the Billboard 200 and achieving RIAA triple platinum status. The group has continued recording and touring over the years and has released nine studio albums to date, including their most recent studio album, 2015's See What You Started by Continuing. Their tenth studio album is currently in the making and is planned to be released as a double album in February 2019.