NYCB Theatre at Westbury | Westbury, NY
The "Voice of Rock" himself, Glenn Hughes, brings his Classic Deep Purple Live tour to NYCB Theatre at Westbury on Saturday 25th August 2018! The former Deep Purple bassist and vocalist will pay tribute to the mighty rock band's Mark III / IV era in this high energy two hour show!
"I'm excited to be touring the 'Classic Deep Purple Live' in the U.S. late this summer. I first toured 'Classic Deep Purple Live' in Australia and New Zealand last year and it went down like a storm. We're also touring the show throughout South America in April, and international festivals throughout the summer. By the time we tour the U.S., then the U.K. in October, we'll be on fire." – Glen Hughes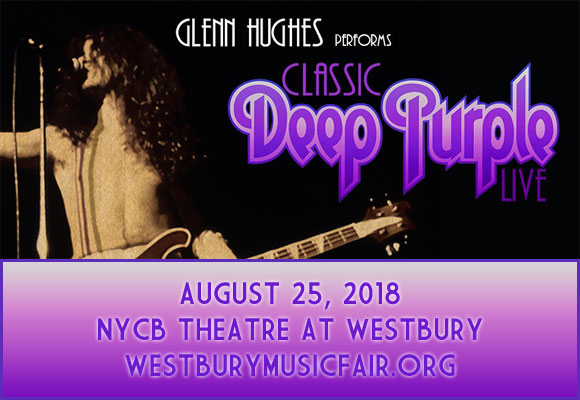 "For the first time in 40 years fans will witness Glenn Hughes – The Voice of Rock and one of the finest musicians of his generation fronting a mighty handpicked band, as he revisits some of Deep Purple's all-time greatest songs.
Glenn Hughes played his last concert with Deep Purple on March 15, 1976, at Liverpool's Empire Theatre. On that night, the UK bassist and vocalist walked away from one of history's truly game-changing rock phenomena and never looked back – until now – GET READY!"