NYCB Theatre at Westbury | Westbury, New York
Rock and Roll Hall of Fame inductees Cheap Trick are coming to NYCB Theatre at Westbury on Tuesday 11th February 2020 for a night of fun and music! The band, who have been performing for over four decades, have recently finished touring as support for ZZ Top, and continue to be one of the most sought after live rock acts from their era, helped by their incredible back catalog!
"I guess the other bands are afraid of us", says guitarist Rick Nielsen, about performing live. "I mean, really, book us and we'll be there. We play bar mitzvahs, weddings and funerals, we do it all. Whether there's 8 or 80,000 people, we don't care. We just love to play, no matter where it is."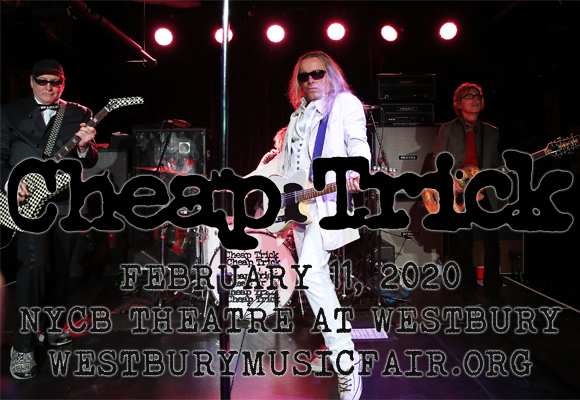 Formed in 1973 in Rockford, Illinois, American rock band Cheap Trick is known for their unique and influential sound, bridging the gap between '60s pop, heavy metal, and punk. The band trod an unusual path to fame, finding success in Japan with its 1977 debut album, before achieving mainstream popularity in the United States in 1979 with its breakthrough album Cheap Trick at Budokan, helped by the live recording of the song "I Want You to Want Me", which hit the top 10 on the Billboard Hot 100. The band has enjoyed several resurgences throughout its career, finding popularity across the decades, and was inducted into the Rock and Rock Hall of Fame in 2016.