NYCB Theatre at Westbury | Westbury, New York
What do you get when you mix music and laughter? You're in for an intoxicatingly enchanting and entertaining evening. Michael Amante & Sal Richards are the headlining acts "Caruso and Pagliacci". Check out their one-night only performance at the NYCB Theatre at Westbury on Sunday 26th October 2014.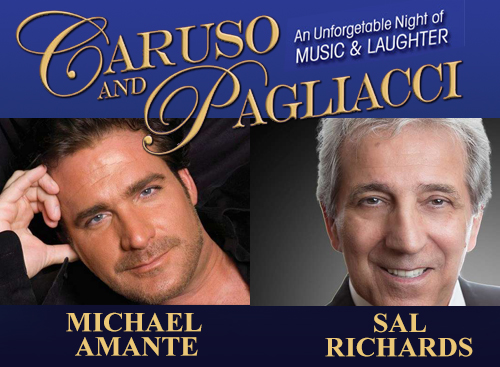 Caruso and Pagliacci … Get to know the gentlemen who will usher in an an unforgettable night of music and laughter.
Opera. Broadway. Contemporary pop. Three different music styles. Three distinct demands for vocal stamina and power. Yet, one singer can pull them all off. Michael Amante is touted as the 'People's Tenor'. The great Tony Bennet himself was impressed and regards him as a "remarkable range of notes and his ability to sing everything from opera, to Broadway, to contemporary." He has an astonishing range that he earned various monikers such as "the Prince of High C's," and even "the Next Mario Lanza".
Sal Richards could be considered a jack-of-all-trades entertainer. His impeccable comedic hosting skills has brought him from bars to theatre halls, to the TV, and the silver screen. His career is decorated with significant acclaims and honors which include a big vote from the New York Friars Club's as "Entertainment Industry's Hot Comic", "Entertainer Of The Year in Atlantic City", and raves and praises from the press media and critics. Above all, he is well-loved and never fails to put a smile on the faces of his legions of fans.