Westbury Music Fair | Westbury, New York
Rolling Stone Magazine hails him as one of  the 'Greatest Singers of All-Time', and the other as one of the 'Greatest Guitarists of All-Time'.   With two legendary and iconic artists of such caliber and influence sharing one concert stage, expect nothing but an epic performance of a lifetime!  Brian Wilson and Jeff Beck are two artists that should be on your 'must-see-concert' bucket list.  Catch this monumental performance at the Westbury Music Fair (NYCB Theatre), Westbury, New York on October 12, 2013.  Show starts 8:00 pm.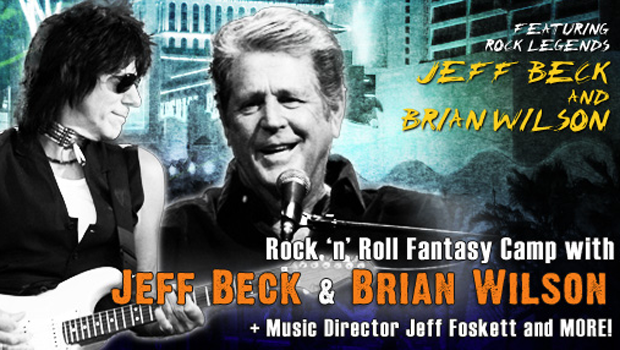 In 2006 at the MusicCares Person of the Year Tribute, Jeff Beck was one of the artists who paid tribute to the great Brian Wilson.  That became a date with destiny that made this co-headling tour of 2013 come to pass... ""Jeff is one of the most amazing guitarists I've ever worked with and his vibe is inspiring. I feel having Jeff Beck co-headline with me is a cool and exciting addition. We've got some new tunes we want to try out on a live crowd as well as doing some great music from our catalogs.", says Brian Wilson.  In turn, Jeff Beck says: " "Brian will kick things off, but I'll also be given enough time to establish what I'm about," Beck told USA Today. "In the end, we'll mix and match. It's a complete honor to be on stage with him."
Brian Wilson is the chief songwriter and member of the legendary Beach Boys.  His songwriting and production genius has given Beach Boys the highly influential and chart-topping songs that sky-rocketed their career in the 60s.  His ground-breaking songwriting and production woerk for the Beach Boys' album 'Pet Sounds' spawned critical acclaim, hailing it as of the greatest albums of all time.
Jeff Beck is an English rock guitarist whose body of work are identified with the  iconic bands he played with — The Yardbirds, The Jeff Beck Group, and Beck, Bogert & Appice.  He has also collaborated or contributed his guitar genius with some of the most influential artists like Mick Jagger, Tina Turner, Morrissey, Jon Bon Jovi, Stevie Wonder, Roger Waters,  to name a few.  He is often called the 'guitarist's guitarist' and one of the most influential lead guitarists in rock music.
When two music heavyweights such as these come together, don't think twice!  Book your tickets now!