NYCB Theatre at Westbury | Westbury, NY
A stalwart of the comedy circuit who has tirelessly dedicated his life to the art of making people laugh, Brian Regan comes to NYCB Theatre at Westbury on Saturday 11th May 2019! A comedy hero, who has built a large and loyal fan-base with his clean, energetic, off-the-wall humor, Regan is a consummate professional live, and will have you doubled over with laughter in one hot minute! Don't miss your chance to see this incredible comic live!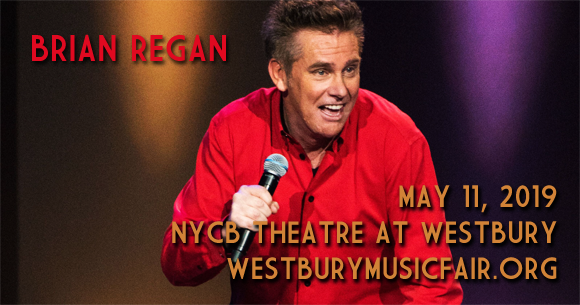 During his last semester in 1980, American stand-up comedian Brian Regan dropped out of school to pursue stand-up comedy. After years of working the comedy circuit, Regan's popularity grew and in 1988, Regan won $10,000 in the "Funniest Person in New York" contest held by the radio station K-ROCK. In both 1995 and 1996, Regan won the American Comedy Award for Best Club Comic, and in 1997 (the same year that he returned to school to finish his degree), he released his first CD, Brian Regan Live. He continued to tour the country throughout the 1990s, and in 2000, he taped his own Comedy Central Presents special. Throughout the 2000s, Regan embarked on larger and larger tours, and in 2007, he signed a deal with Comedy Central to star in two one-hour stand-up specials, release the specials on DVD, develop a show for the network, and headline a theater tour, "Brian Regan in Concert: A Comedy Central Live Event." His first ever Comedy Central live special was released in 2016, and in 2017 Regan signed a deal with Netflix to release two stand-up specials.