NYCB Theatre at Westbury | Westbury, New York
One of the greatest R&B groups of all time, Boyz II Men, is headed to NYCB Theatre at Westbury on Sunday 5th August, 2018 for a night of smooth grooves and sweet harmonies! The Philly trio are known for their heart-rending ballads and soulful classics, so get ready to enjoy a night of pure 90s nostalgia as they take you on a tuneful trip down memory lane! Tickets available now!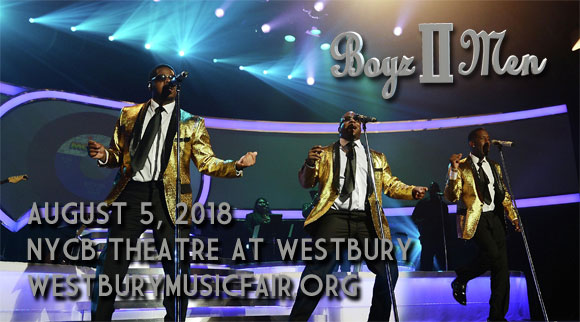 Finding fame in the 1990s as an R&B quartet, American vocal group Boyz II Men is currently comprised of members Nathan Morris (baritone), Wanya Morris (tenor) and Shawn Stockman (tenor) – Michael McCary (bass), left in 2003 due to health issues. The group's 1990 debut album, Cooleyhighharmony, was a huge success, eventually selling over nine million copies and winning the Grammy Award for Best R&B Performance by a Duo or Group with Vocals at the 1992 Grammy Awards. The album launched the Top 5 singles "Motownphilly" and "It's So Hard to Say Goodbye To Yesterday" (1991), followed by the number one single "End of the Road" (1992), which topped the charts worldwide. "End of the Road" stayed at the number one spot on the Billboard Hot 100 thirteen weeks, breaking the decades-old record held by Elvis Presley – a record they proceeded to break this with the release of singles "I'll Make Love to You" and "One Sweet Day" (with Mariah Carey), which each set new records for the total number of weeks at number one (fourteen and sixteen weeks respectively). The group's twelfth and most recent studio album, Under The Streetlight, was released in 2017.