Westbury Music Fair | Westbury, New York
When artistry meets passion, what do you get?  Blood, Sweat and Tears.  They've got the stuff that everything jazz-rock music is made of.  Over the years,  Blood, Sweat and Tears has delivered pure, unadulterated  jazz-rock music, a formula that's uniquely theirs.  And when go on the road, fans never fail to flock to their shows.  On the 23rd of November 2012, Blood, Sweat, and Tears will be performing live at the Westbury Music Fair in New York.  Show starts at 8:00 pm.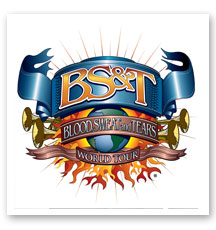 Formed way back in 1967, Blood, Sweat, and Tears has had a long history behind them, including a long list of a roster of members.  They are creative and are exceptionally skilled to play almost all music genre, yet their signature formula is a unique concoction of jazz and rock, sprinkled with elements of pop, blues, R&B, soul, and so much improvisations in between.  There is no solid member line-up, but it is simply amazing that they never run short of talented musicians.  Their member roster reads like the honor roll or the cream of the crop among the world's greatest rock and jazz musicians in the world.  Their albums are certified million sellers, they have 10 Grammy Award nominations, 3 Grammy Awards, including the most coveted Album of the Year award.
You will never be short-changed spending for a night to watch Blood, Sweat and Tears perform.  Every note, every melody, every song, drips with sheer talent and driving passion.  Buy your tickets now! Definitely worth it!