NYCB Theatre at Westbury | Westbury, NY
You're invited to have a ball! A breathtaking all-star dance production spectacle– "Ballroom with a Twist" is coming to NYCB Theatre at Westbury on Saturday 2nd August 2014. This is a one-night-only performance. Don't miss it!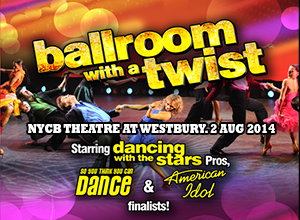 Dancing With The Stars Pros. So You Think You Can Dance. American Idol… You've seen them on TV, but you'll see all of them, all in one stage for a night of graceful moves, adrenalin-powered grooves, and soaring vocal harmonies. It's amusing to see them on TV, but get the jaw-dropping experience of watching them live and upclose. "Ballroom With A Twist" is not a strictly ballroom occassion. The passion and intensity of the Cha-Cha, Rumba, Samba, Jive, Quickstep will go head-to-head, lock and loaded with the pump and grind of hip-hop, breakdance, and other contemporary forms of dance.
"Ballroom With A Twitst" features Dancing with the Stars' Maksim Chmerkovskiy, Val Chmerkovskiy, Sharna Burgess and Karina Smirnoff; American Idol finalists Haley Scaranato (Season 6) and Von Smith (Season 8); So You Think You Can Dance finalists Randi Lynn Strong, Jonathan Platero (Season 5)
and Legacy (Season 6), including Cirque du Soleil performer Eric Newton, to add some daring acrobatic action.
"Ballroom With A Twist" is a complete entertainment experience for the whole family! Tickets are on the move. Don't miss a beat, get your tickets now!