NYCB Theatre at Westbury | Westbury, New York
Don't Stop Them Now! Almost Queen is traveling at the speed of light toward the NYCB Theatre on Saturday, November 4, 2023! The concert is an ongoing tribute to Queen, the 70s British rock band that revolutionized heavy metal and progressive rock genres – featuring all-time hits like "Bohemian Rhapsody," "Radio Ga Ga," and "Crazy Little Thing Called Love." The talented four-piece band, Almost Queen brings listeners a live performance that showcases signature four-part harmonies and sentimental musical interludes. With authentic costumes, the group perfectly recreates the classic formula of live energy and camp theatrics in delivering the best Queen tribute performance the world has seen in decades! NYCB Theater at Westbury's unique stage that gives spectators an innovative entertainment experience will host this event. Praised as the most authentic tribute show since the glory days of Queen themselves, this concert is not one to miss! Book your tickets here today!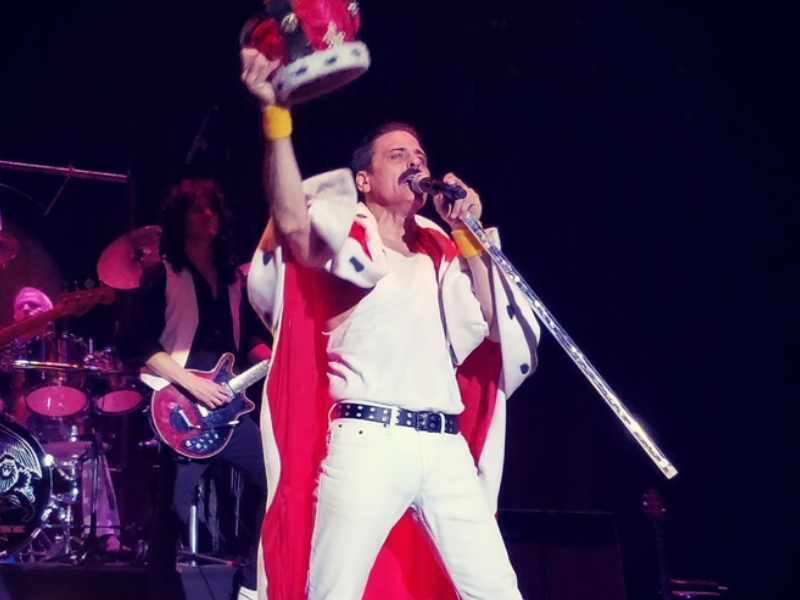 Almost Queen will rock the stage at the NYCB Theatre on Saturday, November 4, 2023! Their live performance which prides itself as the most accurate live rendition of Queen since the band's inception, has the band's distinctive harmonies, extravagant wardrobe, and advanced musical interludes.
With the huge success of the Queen's biographical movie "Bohemian Rhapsody" back in 2018, the tribute group has continued to sell out venues all across the country.
"Almost Queen was like almost being there. From my vantage point, I heard more than I saw, and hearing what I did I thought Freddie Mercury and Brian May were on our stage." Rob Schneider, Owner of Lighthouse Harley-Davidson, reviews the concert experience.
Joseph Russo will star as frontman Freddie Mercury, while Steve Leonard portrays Brian May. To complete the group, John Cappadonna plays drummer Roger Taylor, and Randy Gregg personifies bassist John Deacon.
When asked about what fans can expect, Gregg answers that for people who have already seen Queen perform live previously, the concert is a faithful revisit to the songs and energy of how they were live. The bassist claims that if you have never experienced Queen live back in the day, they are pretty good at representing them. "All of us sing, so we can pull off the studio harmonies in a live situation. Ultimately, for us, it's all about raising awareness of Queen. We all love Queen, so everyone else should too," he shares.
In addition to this, fans will particularly be able to hear all-time Queen hits like "We Are The Champions," "We Will Rock You," "Crazy Little Thing Called Love," and "Another One Bites The Dust."
This event will be held at the NYCB Theatre at Westbury, which has a unique theatre-in-the-round stage design. This arrangement allows for a more immersive entertainment experience and gives more of the audience front-row seats. What's more is that rather than simply projecting outwards, the acoustics bounce off the walls, producing a surround-sound effect.
According to organizers, the event is open to all ages and has reserved seating with prices ranging from $29 to $69 with a maximum purchase of eight tickets.
Be part of the greatest rock tribute of the year, and purchase your tickets today!