NYCB Theatre at Westbury | Westbury, New York
Experience a world of adventure through the eyes of "Alice in Wonderland". The journey begins at the NYCB Theatre at Westbury on Tuesday 29th July 2014.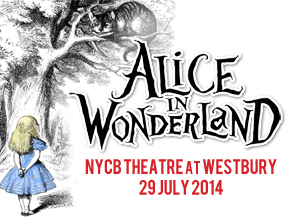 From the pages of the 1865 novel by written by English author Charles Lutwidge Dodgson under the pseudonym Lewis Carroll, Alice's Adventures in Wonderland has brought wonder, amazement, and delight to the young and young at heart of many generations. Over a century has passed, and yet readers still find themselves tagging along with Alice as she enters the rabbit hole, attends a mad tea party, and gets into various out-of-this-world encounters with very peculiar characters such as the frantic white rabbit, the ruthless Queen of Hearts, the enigmatic Chesire Cat, and a host of other whimsical characters. Now the worn pages of the book will come alive onstage. Watch the characters spring to life. A kaleidoscope of lights, sounds, and colors bursting onstage, as Alice wanders about a labyrinth and mind-blowing adventure trail.
If you enjoyed reading the book, this theatre production of Alice in Wonderland is a must-see, not-to-be-missed experience. Treat yourself and your family to an unforgettable journey; a wonderful memory that would make them feel forever young.