NYCB Theatre at Westbury | Westbury, New York
Powerhouse icon Alanis Morissette is set to do an 'Intimate and Acoustic' performance at the NYCB Theatre at Westbury on Saturday 26th July 2014. You oughta know that you cannot miss this remarkable show!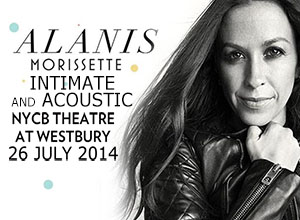 Alanis Morissette goes 'Intimate and Acoustic' — isn't it ironic, dont you think? Well, Alanis never fails to surprise her loyal and dedicated fans. This is one of the rare occasions where Alanis bares the raw authenticity of her soul, another facet of her artistry that never ceases to amaze and endear her legions of followers.
Alanis Morissette struck like a lightning bolt when she released her ground-breaking, 30 million-selling album "Jagged Little Pill". She was fierce and attitude personified. Her biggest hits "Ironic," "You Oughta Know," "Hand in My Pocket," "Head Over Feet," "You Learn" and "Thank You", are just some of the songs that struck an emotional chord, yet brought out the fighter-spirit that ignited so much passion, angst, vulnerability, and hope from listeners of that generation. She has bagged almost every significant award that a singer and songwriter has ever dreamed of, yet for her fans, she has made a mark as one of the most evocative, insightful, and true-to-the-bone artists of all time.