NYCB Theatre at Westbury | Westbury, New York
The worldwide soft-rock hitmaker duo behind timeless hits "Every Woman in the World", "Even the Nights Are Better", "All Out of Love", and so much more, Air Supply, is back for a show at NYCB Theatre at Westbury on Friday, August 19, 2022. For over four decades, Air Supply's hits have become radio staples across generations with lead vocalist Russel Hitchcock's captivating vocals to classic tracks that hit the heart. The duo's classic hits and Hitchcock's soaring voice continues to live on as one of the greatest waves in the soft-rock scene. It's a night to relive Air Supply's intimate and sentimental tunes live on stage. Book your tickets now!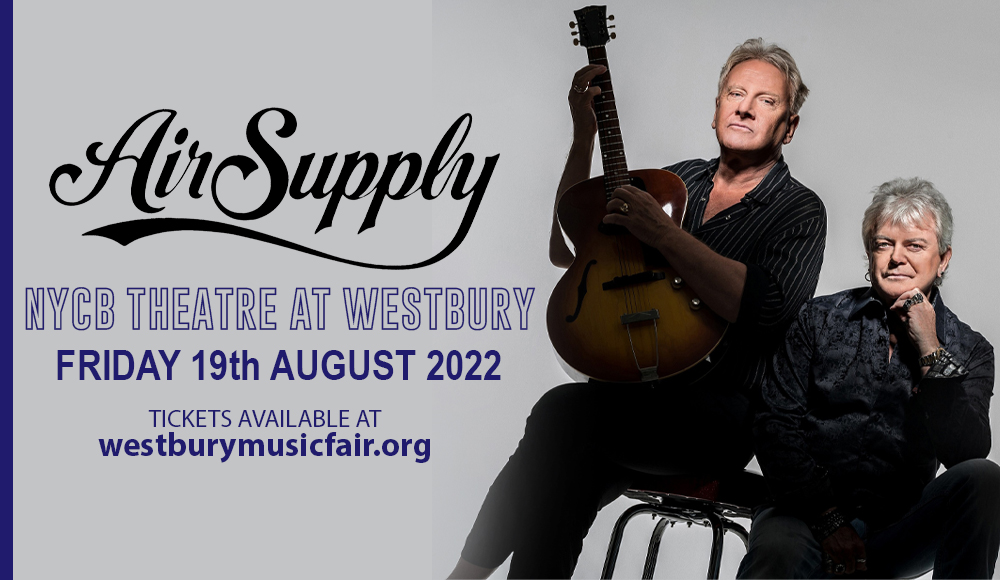 Chrissie Hammond, Russell Hitchcock, and Graham Russell met while performing for the Jesus Christ Superstar musical production in 1975, and formed the vocal group that would be the Air Supply we know today. Hammond left a year later with Jeremy Paul taking his place. By 1976, the band released their first single "Love and Other Bruises".
Over the years later, Russel and Hitchcock remained, and the duo set forth releasing hits after hit, becoming a nameplate in soft-rock history. The ARIA inducted Air Supply into their Hall of Fame in 2013.
1980's re-recorded version of "Lost in Love" marked Air Supply's beginning of international success, bagging three US top 5 singles on the charts. The hit singles were "Lost in Love" at #3, "Every Woman in the World" at #5, and "All Out of Love" at #2. The album is awarded 2x Platinum in the US, selling over three million copies.
To date, Air Supply has 17 studio records, amassing worldwide hits, touching people's hearts across the globe through heartfelt tracks sung by Hitchcock's alluring tenor voice. More of these hits and fan-favorite tracks include "The One That You Love", "Making Love Out of Nothing at All", "Sweet Dreams", "Just as I Am", "Lonely Is the Night", and so much more.
Last 2019, the duo dropped "The Lost in Love Experience", a live album containing live recorded performances of their greatest hits and fan-favorite tracks across Air Supply's captivating musical journey that continues to soothe ears of generations to come.
After two shaky years with the pandemic, it's time to fill up your hearts with classic soft-rock hits by the one and only Air Supply live on stage. Get ready to jam and sing your heart out as Air Supply takes you back to the good 'ol days of the duo's biggest hits performed live. Book your tickets now!