NYCB Theatre at Westbury | Westbury, New York
The 'dancing queen inside of you is surely gonna clamor 'gimme, gimme, gimme more! as ABBA The Concert is back to pay tribute to one of the world's greatest pop sensations of all time, ABBA. According to critics and audiences, "This is the closest to ABBA you'll ever get", and it's finally coming over at the NYCB Theatre at Westbury on Thursday, 29th of September 2022 as ABBA The Concert – ABBA Tribute takes the stage and brings ABBA's biggest hits and crowd-favorites back to life, including "Dancing Queen", "The Name of the Game", "Mamma Mia", and many many more! Calling all the 'dancing queens (and kings), to come on over and party back in time as ABBA's biggest hits is taking over. So, get ready to dance and sing your hearts out at ABBA The Concert; book those tickets now!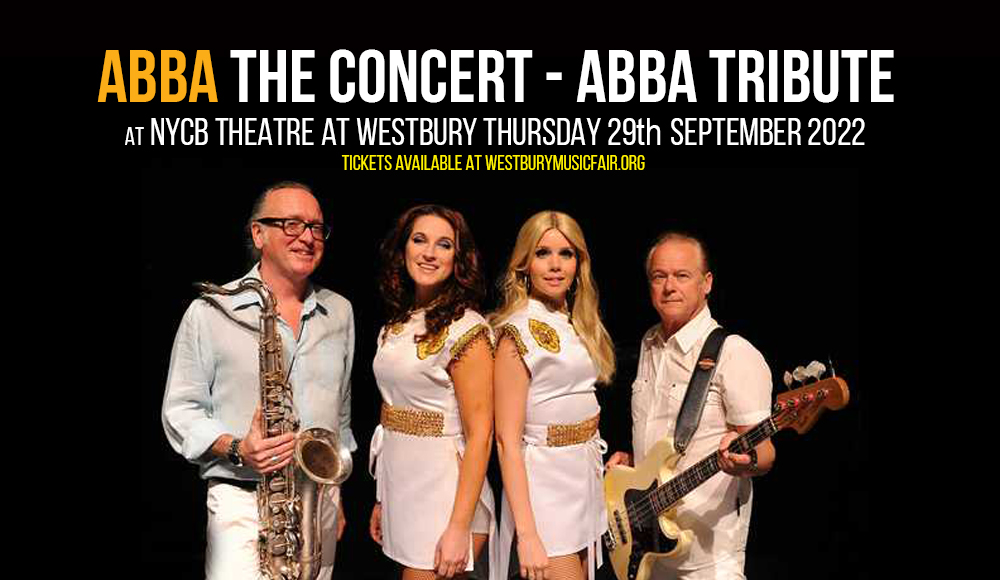 For over a decade, the team behind ABBA The Concert has held the best ABBA tribute shows in the country, selling out shows and tours across the globe. "They are by far the best tribute band performing the hits of one of the best pop bands ever," says Unratedmag.com.
As the country's premier tribute band act for the world-dominating Swedish pop group, ABBA, you can expect ABBA's iconic and alluring costumes, visuals, and sparkling set-ups to come back to life. You can expect ABBA's greatest hits, "Gimme! Gimme! Gimme! (A Man After Midnight)", "Take a Chance on Me", "Dancing Queen", "SOS", "Money, Money, Money", and many more, to be performed just like it was fresh from the 70s.
"The acclaimed cover band … looks and sounds just like the original foursome," said Unrated Magazine.
ABBA The Concert is here to dazzle audiences, bringing out the 'dancing queen inside of them, and sing their hearts out to every single word to legendary ABBA hits. ABBA, to whom the act pays tribute to, is one of the best-selling music artists of all time, has been inducted into the Vocal Group Hall of Fame, the Rock and Roll Hall of Fame, and their hit single "Dancing
Queen" inducted into the Recording Academy's Grammy Hall of Fame.
Surely, the ABBA tribute, ABBA The Concert, gives justice to the original legends and their highly-acclaimed hits. The tribute act carries on the mission of keeping ABBA's heritage alive and running for generations to come. Since ABBA's domination in the 70s, 'dancing queens across generations and generations to come will continue to hear and see ABBA's greatest hits live.
You'll definitely be asking 'gimme, gimme, gimme more as ABBA The Concert finally brings the ABBA experience back to life, live on stage. They've proven themselves to be the best tribute act that keeps ABBA's music and shows living to this date. So, don't miss out, book those tickets now!