NYCB Theatre at Westbury | Westbury, New York
It's a double whammy of hilarity as Vicki Lawrence comes to NYCB Theatre at Westbury on Sunday 7th April 2019 with her "two woman show", bringing everyone's favorite Mama, Thelma Harper, along for the ride! The Emmy Award-winning actress, comedian and singer delivers a warmly funny show that makes the most of her many talents:
"I think people will get a kick out of the things Mama has an opinion about. We're creating new material with a more modern and cutting edge. Where Mama is concerned, expect the unexpected. There's really nothing she can't do," she says. "I hope people will be pleasantly surprised by a side of Vicki they may never have seen.…I know they will be looking forward to Mama, and for her part, that crazy old gal will be up to the challenge."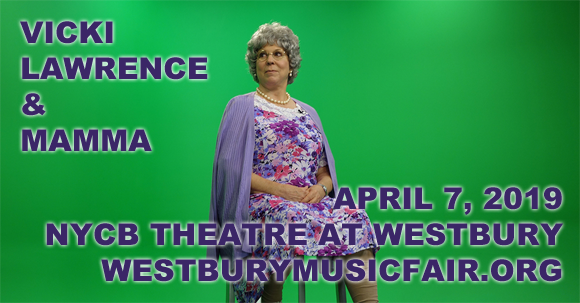 American actress, comedian, and pop music singer Vicki Lawrence first found fame on the Carol Burnett Show (1967 – 1978), where she originated the character Thelma Harper/Mama, who was the central character of the television situation comedy series Mama's Family (1983 – 1990). Lawrence has had multiple television roles over the years, appearing in the sitcoms Laverne & Shirley, Major Dad, Roseanne, Hannah Montana, and Yes, Dear. She also hosted the daytime NBC version of the game show Win, Lose or Draw, and was nominated for two Emmy Awards for her eponymous talk show, Vicki! She has appeared often as a popular panelist on such game shows as Match Game, Password, Password Plus, Super Password and the game show Pyramid. In 1972, she released the number-one hit, "The Night the Lights Went Out in Georgia", and she released three studio albums in the 1970s. Lawrence currently tours the country with her "two-woman" show, and stars as Margaret in the Fox sitcom The Cool Kids.