NYCB Theatre at Westbury | Westbury, New York
Latin music has a treasure trove of sounds, beats, rhythms, melodies, and grooves. You hear and enjoy them in the rich sounds of salsa, reggaeton, ranchero, cumbia and even Latin rock, that are now woven into the threads of modern pop, rock, rap, and hip-hop music of today. But nothing beats the sensation of hearing Latin sounds in its pristine form. Get that chance now at the Tributo A Los Grandes In Concert at NYCB Theatre at Westbury on Sunday 13th October 2019. Featuring Latin music heavyweights Amaury Gutiérrez, Braulio García, and Álvaro Torres. The greatest and the best are coming together in one spectacular live show. Don't miss it! Book your tickets now!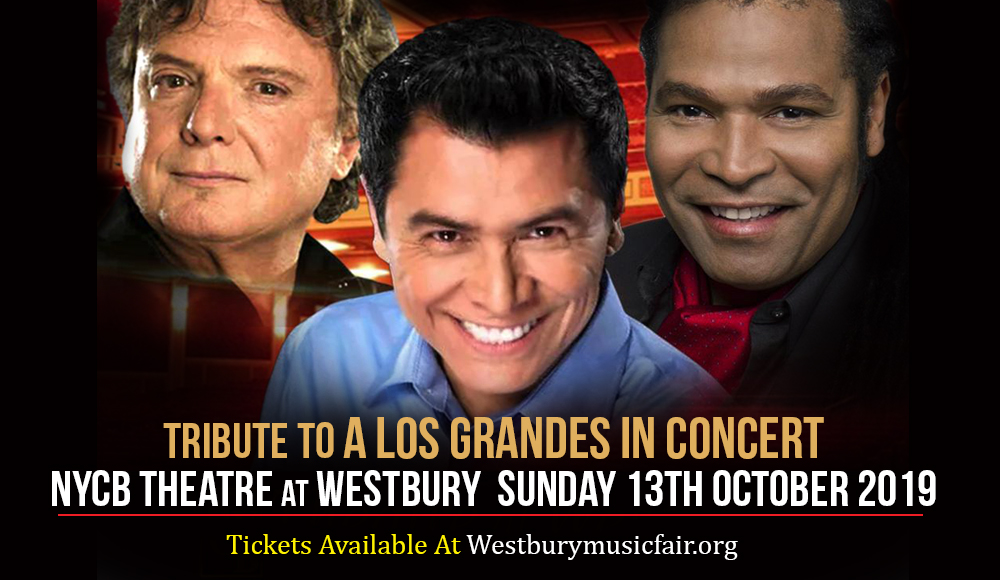 Tributo A Los Grandes In Concert is a fusion of the most celebrated Latin music genres. Enjoy them all in one enchanting and sensual evening as these consummate artists deliver the finest Latin treasures to light up the concert stage…
Amaury Gutiérrez whips up his distinct style of "Cuban Pop" by the old and the Nueva Trova, the golden age of bolero, flavors of Mexican music, with a twist of contemporary music. He is Latin Grammy nominee for his self-titled debut album which sold more than 600,000 copies. He was a recepient of the Up-and-Coming Artist of the Year Onda Award in Spain in 2000. In 2009, Gutierrez held a spectacular concert to celebrate his 20th anniversary; then bagged a Latin Grammy Award in 2011.
Braulio García a Spanish singer-songwriter. He made significant milestones in his music career by rep representing Spain in various music festivals. He placed 16th in a field of 18 in the Eurovision Song Contest 1976 with the song "Sobran las palabras" ("Words are unnecessary"). He was a three-time participant at the Benidorm International Song Festival (1973, 1975 and 1981); at the Viña del Mar International Song Festival in 1979, where he bagged the main prize; and at the Yamaha Music Festival in 1982. He is a Grammy Awards nominee in the Best Latin Pop Performance category, and had number one songs in the Billboard Latin Pop Albums chart and Hot Latin Tracks chart.
Álvaro Torres is a Salvadoran singer and songwriter who started his music career in the 70s in Guatemala where he released a couple of albums. As he moved to the US in the 80s, his career started to kick-off. In 1991 Torres had an artistic breakthrough when he released "Nada Se Compara Contigo", and was voted Songwriter of the Year by BMI in 1994. He is best known for the hits "Hazme olvidarla", "La Unica" (The Only One), "Lo Que Se Dice Olvidar", "Si Estuvieras Conmigo" (If you were here with me) and "Nada se compara contigo" (Nothing Compares to You), "A ti mi amor" (To you my love), "Te Olvidaré" (I´ll Forget You), "El último romántico" (The Last Romantic).
A grand celebration of one of the most passionate, energizing, sensual, and captivating music.. Tributo A Los Grandes In Concert is a must-score ticket. Click that 'buy tickets' button now!