NYCB Theatre at Westbury | Westbury, New York
Rock and roll legends Tommy James and the Shondells come to NYCB at Westbury on Saturday 3rd March 2018! The "Hanky Panky" performers will be giving fans a taste of their vast catalog of hits from the past five decades, and will be joined by The Lovin' Spoonful singer-songwriter John Sebastian for a night of incredible music!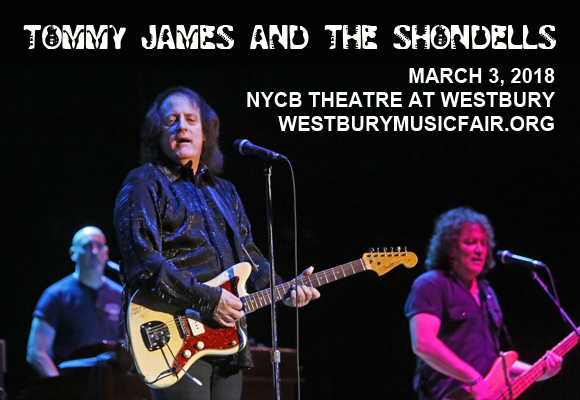 Formed in Niles, Michegan in 1964 and best known for their number one hits  "Hanky Panky" (July 1966, their only RIAA Certified Gold record) and "Crimson and Clover" (February 1969), Tommy James and the Shondells are an American rock band. The group also launched twelve other Top 40 hits, including five in the Hot 100's top ten: "I Think We're Alone Now", "Mirage", "Mony Mony", "Sweet Cherry Wine", and "Crystal Blue Persuasion", the latter of which found new popularity when used in the soundtrack for an episode of Breaking Bad. The 1980s saw several of the band's songs become hits for other artists: Joan Jett & The Blackhearts' version of "Crimson And Clover" (No. 7 in 1982), Tiffany's "I Think We're Alone Now" and Billy Idol's "Mony Mony" (back-to-back No. 1 singles in November 1987).