Westbury Music Fair | Westbury, New York
The Utopia star, soloist, songwriter and producer, Todd Rundgren is coming to New York! The multi talented musician will be at the NYCB Theatre at Westbury, picking up one major performance from 8:00pm on Sunday the 11th of August 2013!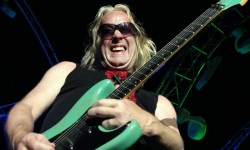 Todd Rundgren came about the music scene in 1972 with his gold solo double LP 'Something/Anything?'. Influenced mainly by English guitarists (especially Eric Clapton and Jeff Beck) and American white blues players (specifically Mike Bloomfield and Harvey Mandel), he has recorded a total of twenty-three studio solo albums. Over the course of his music career, Todd Rudgren has become a multi-instrumentalist, trying his hands with a synthesiser, baby grand piano, Gibson sg guitar, drums and bass. Some of his best known tracks include 'Hello it's me', 'I Saw the Light' and 'Bang the Drum All Day'. Alongside his solo career and studio work, Todd Rundgren toured as part of a band 'Utopia' in the 1970's and 1980's, then as part of 'Half Twisted Band' in 1999. He is also an renowned producer having worked on albums with Jericho and Alice Cooper as well and 'Bat Out of Hell' with Meatloaf.
If you ever want to see some true talent, this is an event you cannot miss. Do you have your tickets yet?