Westbury Music Fair | Westbury, New York
Prepare to yell, screech, bounce and hurdle for a ferocious clash between TNA Impact's best of the best fighters! On April 5, 2013, witness a blazing battle at the Westbury Music Fair in New York presenting "The Immortal" Hulk Hogan, Kurt Angle, Rob Van Dam, Austin Aries, Bully Ray, Bobby Roode, James  Storm, Samoa Joe and a lot more of your favorite superstars! Showtime begins at 7:30 PM.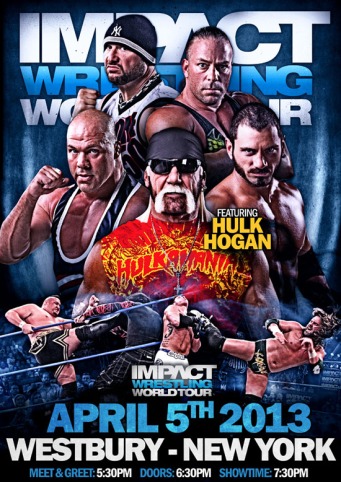 Total Nonstop Action (TNA) Wrestling is currently one of the major Wrestling organizations in the United States established by Jeff Jarrett and Jerry Jarrett. Its physical and vocal fiery battles are broadcasted in more than 120 countries all over the world gaining over a million weekly avid viewers internationally. The TNA also made history in 2004 as the first American wrestling company to defy the use of the conventional square ring and  exclusively utilize hexagonal ring instead. The nonstop action actually features a key attraction, "X-Division" – an act which features relentlessly perilous wrestling styles which utterly amplify the sultry excitement of the event. Wrestlers who perform this highly impressive stunt-like moves are  under 225 lbs (100 kg.), thus, the slogan "It's not about weight limits, it's about no limits".
If watching Impact wrestling on the screen keeps you exhilarated and makes you want to join smashing, can you imagine the thrill if you're screaming with all the tremendously-electrified audiences?? Buy your tickets. Don't miss it.