Westbury Music Fair | Westbury, New York
Move over One Direction fans, and give your moms a break.   It's their turn to scream, shout, and relive the memories of their teenage years with 'The World's Greatest Teen Idols: David Cassidy, Peter Noone, and Mickey Dolenz'.  Girls will always be young at heart, so this show that will make you feely giddy all over again.  David Cassidy, Peter Noone, and Mickey Dolenz will walk, talk, laugh, sing, and dance with you down memory lane on the 22nd of March 2013, at the Westbury Music Fair, New York.  Show starts at 8:00 pm.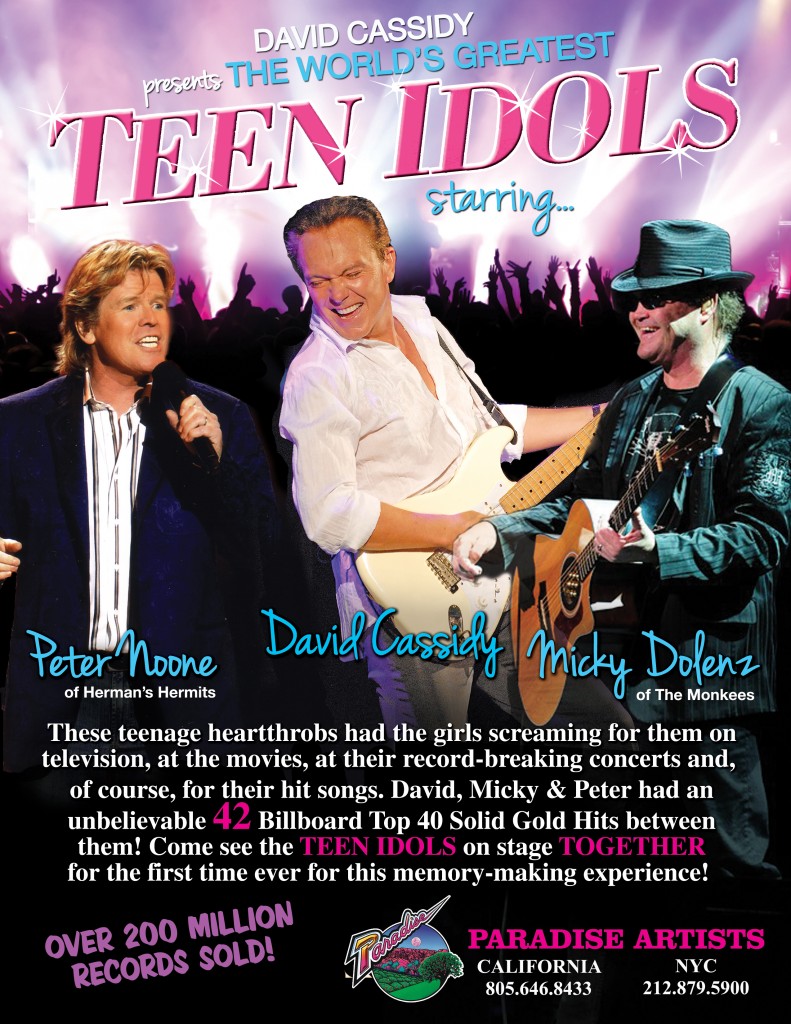 Once a teenage heartthrob, always a teenage heartthrob.  David Cassidy, Peter Noone, and Mickey Dolenz were the poster boys of an era that sang about bus stops, daydream believers and homecoming queens.  Each had their own battalion of screaming fans, television shows, movies, record breaking concerts and hit singles.  In between these three teen idols, they have 42 Billboard Top 40 hits, that are considered monumental classics to this day.
David Cassidy is best known for his cute boy-next-door character from the 70s television musical sitcom The Partridge Family. He is one of the most celebrated teen heartthrob icons, and he is still active with television and live onstage performances. Micky Dolenz is a popular TV and music icon who made his mark as lead vocalist and drummer of the made-for-TV band, The Monkees.  He later on turned to directing TV and theatre shows, and is also an established radio personality.  Peter Noone has not stopped making music.  He is the frontman of the 60s group Herman's Hermits.  He is still actively touring around the world as 'Hermans Hermits Starring Peter Noone'.
There once was a kind of hush…but now, it's  time to scream!  You may no longer be sweet sixteen, but you can still enjoy the fun and excitement of you once experienced as a fan girl of the 60s and 70s.  Don't let this moment pass you by…Buy your tickets now!