NYCB Theatre at Westbury | Westbury, New York
In honor of the 50th anniversary of The Beatles, A cast of over 20 of the world's most renowned Beatles tribute musicians have come together to offer the world's only live concert of the Beatles masterpiece "Love", Bringing you such loved classics as 'Hey Jude', 'Strawberry Fields Forever' and ' All You Need Is Love'. Preforming with live string and horn orchestration, theatrical beauty, high-energy and rock-n-roll flare! If you we're unlucky enough to miss the first gig be sure to catch this once in a lifetime musical comes to NYCB Theatre at Westbury on Sunday 9th February!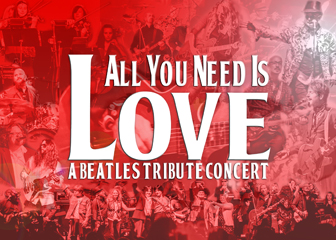 One of the very few rock bands where no matter where you are they've been heard of, played and loved by all, The Beatles. Pioneer's in the rock era, the band was built up of 4 British rock stars; John Lennon, Paul McCartney, George Harrison, and Ringo Starr.
Even after 50 years of their first release the band is still one of the most popular and influential bands of all time. The Beatles have been awarded 6 Diamond albums, as well as 24 Multi-Platinum albums, 39 Platinum albums and 45 Gold albums in the United States alone, in the UK, the Beatles have 4 Multi-Platinum albums, 4 Platinum albums, 8 Gold albums and 1 Silver album