NYCB Theatre at Westbury | Westbury, New York
Spank! The Fifty Shades Parody a hilariously funny musical invites you to join them at the NYCB Theatre at Westbury on Sunday 23rd March 2014. This cheeky, funny musical based on the Fifty Shades of Grey book will have you laughing endlessly with witty comedy, sexy stripteases and plenty of surprises. Tickets online now!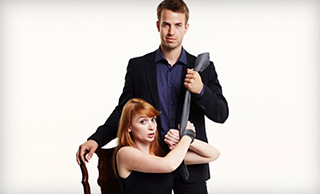 The Spank! The Fifty Shades Parody is a new comedy musical featuring Graydon Long, Drew Moerlein, Alice Moran and many more. The show is a parody of the hit book Fifty Shades of Grey, and the story follows an author, EBJ, as she writes a sex fantasy about a younger version of herself named Natasha Woode and a handsome billionaire, Hugh Hansen. The show first opened in 2012 and proceeded to tour throughout 2013, these tours were a success and they announced another 2014 outing.