NYCB Theatre at Westbury | Westbury, New York
With a voice as smooth as silk and an illustrious, six-decade career in music, Smokey Robinson continues to be one of the industries finest performers. The Miracles frontman and Motown Records veteran invites you to NYCB Theatre at Westbury on Friday 24th August 2018 for an intimate evening of soulful music and insightful nostalgia! Performing hits like "You've Really Got a Hold on Me", "I Second That Emotion" and "The Tears of a Clown", Robinson is a delight on stage – don't miss your chance to sing along to some of the greatest R&B hits of all time!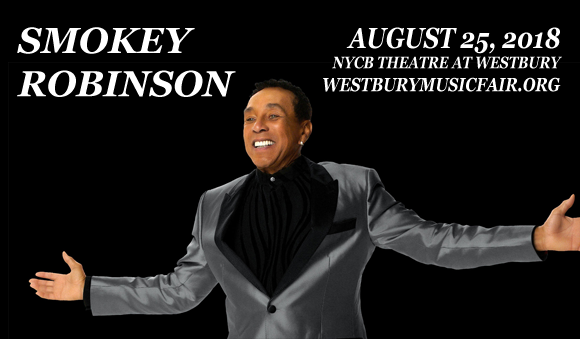 Best known as the founder, front man and principal songwriter and producer of the Motown vocal group the Miracles, Smokey Robinson began his career in 1955 when he formed the group under the name the Five Chimes. Under the management of Motown founder Berry Gordy, who the band were with before Motown was even formed, they had success with twenty six top forty hits over the years, including the top ten singles "You've Really Got a Hold on Me", "Mickey's Monkey", "I Second That Emotion", "Baby Baby Don't Cry" and their only number-one hit during their Robinson years, "The Tears of a Clown". Robinson left the band in 1972 to focus on his role as vice president of Motown Records, but returned to music a year later to embark on a solo career. Robinson was inducted into the Rock and Roll Hall of Fame in 1987 and in 2016 he was awarded the Library of Congress Gershwin Prize for his lifetime contributions to popular music.