NYCB Theatre at Westbury | Westbury, New York
Sal Valentinetti is the American pop culture consummate artist — classy, old-school entertainer with a heart of gold. And yes, that's why America and the rest of the world loves him! America's Got Talent finalist has won the hearts of many. 'Sal The Voice' has made it there, and he's making it everywhere! Now he's spreading love through his heartfelt singing and impassioned showmanship. Catch Sal Valentinetti as he takes on the stage of the NYCB Theatre at Westbury on Saturday 21st December 2019. Save the date! Save your seat by booking your tickets right here, right now!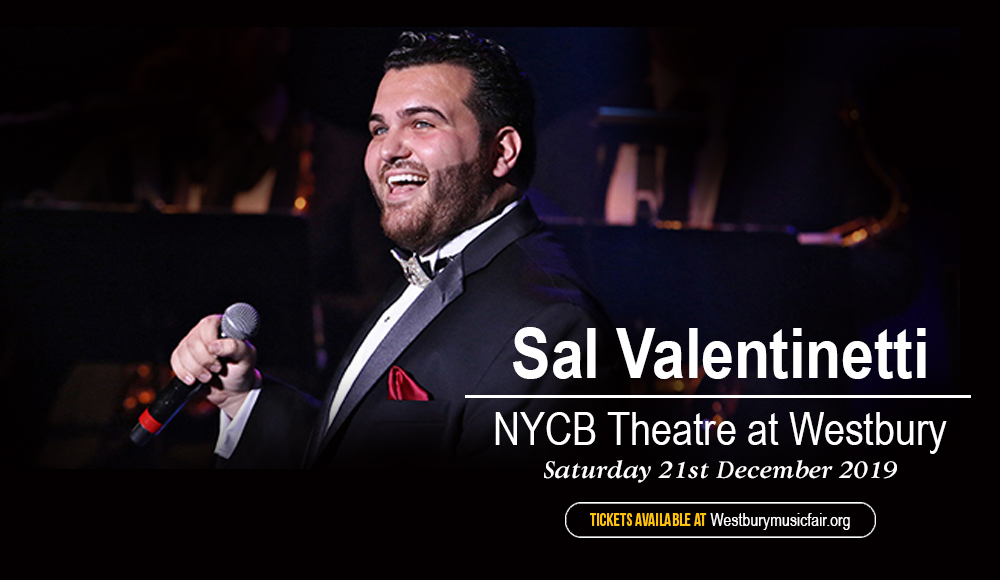 Sal Valentinetti started out as an Italian pizza delivery man. And in one starry evening, his hidden star shone brightly at the stage of America's Got Talent, where his captivating AGT audition video raked in 350 million views worldwide and merited him a 'golden buzzer' courtesy of Heidi Klum which sent him directly to the quarterfinals of the competition. And since then, Sal Valentinetti became 'Sal The Voice' , the guy who delivers his own renditions of timeless classics including "The Way You Look Tonight," "Sway," "Can't Take My Eyes Off of You" and many more, in many concert stages all over the world.
Dressed in his signature white tuxedo, this 23-year-old crooner with flawless vocals, larger than life personality, and debonair swagger reminiscent of that of Dean Martin, Tony Bennett, and Frank Sinatra, is truly a showman. "Sinatra to me was an all around entertainer. I try to use my personality as much as can and I think that is what Sinatra did so effortlessly," Valentinetti previously told Billboard Magazine in 2016. "It's good to be able to channel Frank and be that guy up there. That's the same guy I am. Frank was a confident, larger than life person, and I try to be the same style of entertainer."
Enchanted evenings are not always delivered on a silver platter. But it can be delivered straight to your seat by a modern crooner named Sal Valentinetti. All you need to do is get a ticket… book your tickets now!