NYCB Theatre at Westbury | Westbury, New York
Prog-rock would impact as hard as it does today without the trail-blazing efforts of a band called Procol Harum. And if you proclaim the rock and roll runs through your veins, then get a heady dose of this rock potion courtesy of Procol Harum, performing at the NYCB Theatre at Westbury on Thursday 28th February 2019. A multitude of the band's most hardcore fans won't miss singing along to 'Whiter Shade of Pale' for the world! Tickets are moving quickly, therefore, make the wise move to book your tickets now!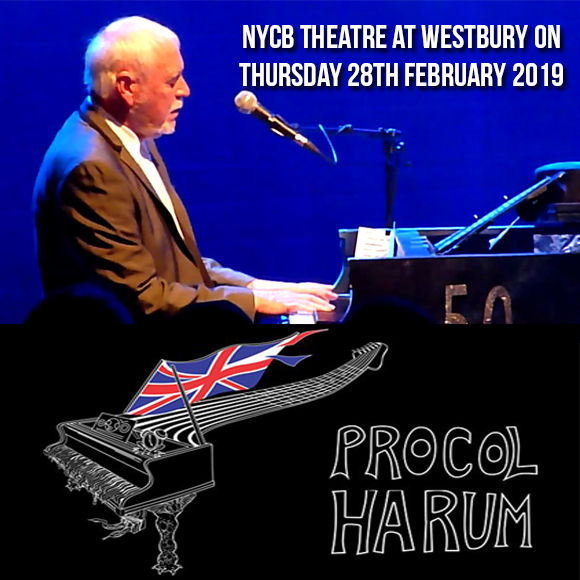 "A Whiter Shade of Pale" is one of rock music's pillars of what is now called as 'prog rock'. This is one of those anthemic ditties that has kept the flames of rock blazing hot to this day. Founding member and lead singer -keyboardist Gary Brooker simply refused to throw in the towel back in 1966 when his first band The Paramounts had a mild taste of success but failed to sustain it with a follow-up. But just before his contract with his record company expired, Brooker wasted no time in forming a new band and releasing a record. Procol Harum released their debut single "A Whiter Shade Of Pale" in 1967, which is esteemed as one of few top 30 singles that have sold over 10 million copies worldwide, and went on to become one of the most influential songs of all time.
Procol Harum was shaping up for success, sharing the stage with the legendary Jimi Hendrix, and releasing an equally successful following single, "Homburg". The release of their debut album "Shine On Brightly" exhibited their transition from psychedelic rock to their early experimentations that led to the sound now called prog rock. Procol Harum is considered one of the driving forces that initiated this music movement, which influences and still blow the mind of rock aficionados to the day.
Procol Harum's electrifying live performance is a unique experience, even for their loyal fans who troop to their shows again and again. Do yourself a favor that you would be thankful for the rest of your life. Score yourself a ticket now!