Westbury Music Fair | Westbury, New York
The words 'make love not war'  still ring true to this day.  It was the battlecry of the hippies of the 60s, and has become a message of hope and inspiration of the youth for many generations.  Peter and Paul gave these revolutionary messages heart, soul, and music with chart-topping hits in the 60s.  Now, they're on the road again, still carrying and lighting up the torch of revolutionary music.  Join them in an evening of peace, love, happiness, and music as they dish out their greatest nostalgic hits at the Westbury Music Fair, New York on June 14, 2013.  Show starts 8:00 PM.  Don't forget to wear flowers in your hair!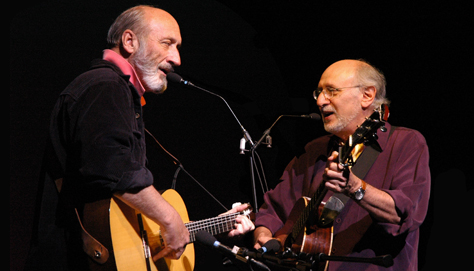 In the 60s, they rose to fame as a trio known as Peter, Paul, and Mary.  Their 50-year old career was marked with milestones of hit songs such as "Puff The Magic Dragon", "If I Had A Hammer (The Hammer Song)", "Lemon Tree", "Blowin' In The Wind", "Leaving On a Jet Plane", "Where Have All The Flowers Gone",  and so much more.  Composed of Peter Yarrow, Paul Stookey and Mary Travers, 'Peter, Paul, and Mary' were classified as folk-pop artists who captured the spirit of an era that expressed an impassioned cry for freedom, individuality, peace, change, hope, humanity.  Their career was at an upswing during the 60s decade, til they went their own separate ways in the 70s.  From 1978 to 2009, they reunited and continued to do live shows; until Mary's untimely death in 2009 from complications brought about by chemotherapy in her bout against leukemia.   To date, the duo of Peter and Paul continue to carry and spread their music legacy by actively going on concert tours around the world.
If you dozed off on reading history books or listening to your folks' stories about the tumultuous period of the 60s, try and listen to the music.  With a concert like this, you'll get a trippy yet enlightening and inspiring experience that only the music and stories of Peter and Paul can bring. Book your tickets now!