NYCB Theatre at Westbury | Westbury, New York
Spend an enchanting "Evening With The Legendary Paul Anka's Love Never Felt So Good" one-night only show at the NYCB Theatre at Westbury on Saturday 8th November 2014. Feel the love and rekindle the wonderful memories from the best times of your life as Anka serenades you with his best-loved hits. This is one bucket-list worthy concert, not to be missed. Tickets are available but you should not wait for the last minute. Book your tickets now!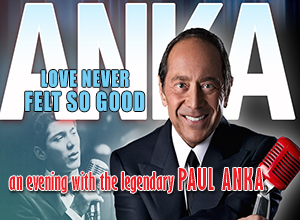 A listing of song titles that he has recorded and written is enough to show his noteworthy contribution to the history of popular and contemporary music. Paul Anka's 57 years (and still counting) music career journey is comprised of everlasting hits that continue to resonate in the hearts and minds of his ever loyal fans. His music influenced generation after generation of aspiring singer-songwriters and music lovers. In the 50s and 60s, he was a cute-boy-next-door, teen singing heartthrob who released an impressive string of hits like "Diana", "Put Your Head On My Shoulder", "Puppy Love" and "Lonely Boy", which sky-rocketed up the charts in US and Canada to the rest of the world. In the 70s and early 80s, he re-established himself as a dashing balladeer in the arena of pop adult contemporary music. His mega hit singles such as "(You're) Having My Baby" and "The Times of Your Life" have tugged countless heart strings and are now considered timeless classics.
Paul Anka has not only built his stature as a legendary artist, but his gift for songwriting has also paved the way for other artists to attain stellar status. He penned Tom Jone's "She's a Lady", as well as Frank Sinatra's monumental signature song "My Way". Recently, Michael Jackson's 2014 posthumous album Xscape, features the lead single "Love Never Felt So Good", which Anka co-wrote with Jackson in 1983.
If you want to have great times and memories in your life, this you've got to see and experience…An Evening With The Legendary Paul Anka. Book your tickets now, or regret later. Make the sound choice.