NYCB Theatre at Westbury | Westbury, New York
This artist is a constant reminder that life is good. The everlasting appeal of his songs is proof that truly great music becomes the soundtrack of one's life and forge inspiration in the spirits of many generations. The credentials and the career of Paul Anka go beyond that of being a singer, songwriter, and actor. Paul Anka is an icon, a vanguard of music artistry, professionalism, and showmanship. The live concert circuit has been his route all through his career going strong for over fifty years. Anka is treading a familiar destination that has welcomed him time and time again. Be part of his welcoming party once more as he heads down to the NYCB Theatre at Westbury on Saturday 9th November 2019. Secure your slot and your spot to this concert event of a lifetime. Don't miss it!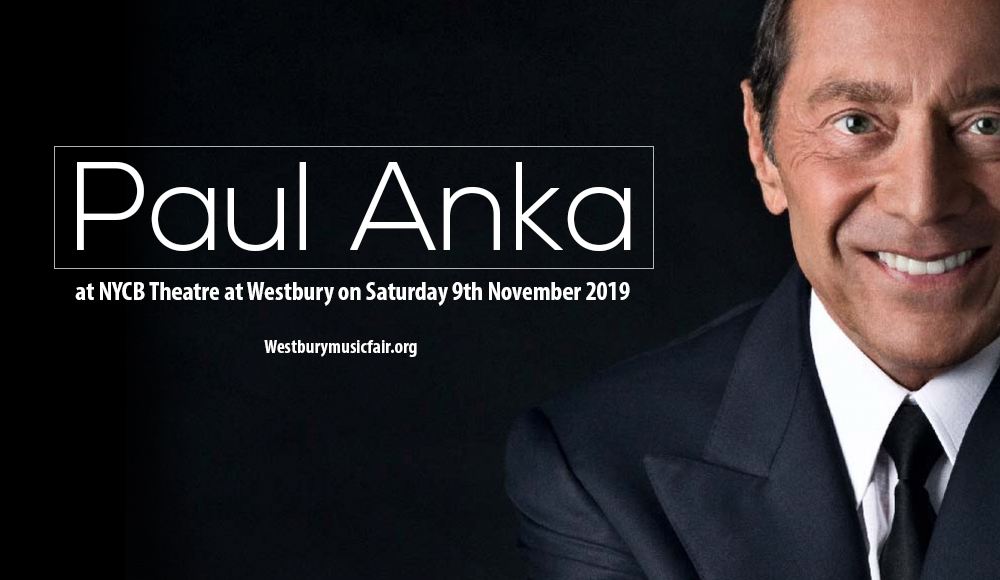 As Paul Anka started singing "Let me get to know you…", he and his fans have built a lasting connection that have gone a long, long way. And mind you. this is not just a single generation. He has increased his tribe of afficionados over the years. "Diana", "Lonely Boy", "Put Your Head on My Shoulder", "(You're) Having My Baby", "Times of Your Life", are just some of the many hits he has churned out as a solo recording artist. On top of that, he his a prolific songwriter who has penned one of the greatest and most covered songs ever recorded — the immortal hit "My Way".
Due to his Canadian roots, Anka's amazing contribution to music has made his country proud and honored him with a street in Ottawa was named Paul Anka Drive. Then the Ottawa City Council named August 26 as "Paul Anka Day" to celebrate his quarter-century in show business. He is a consistent nominee in the Juno Awards–an award given for songwriting. Then in 1975, he bagged the most prestigious Juno Award for Composer of the Year. He was inducted into the Canadian Music Hall of Fame in 1980, and has secured his spot in Canada's Walk of Fame in 2005.
Scratch this off your bucket-list by booking your tickets now!