Westbury Music Fair | Westbury, New York
The Nutcraker ballet is an annual Christmas family tradition.  What would make this more fun and exciting for the kids and kids at heart?  Make way for the beloved bunny siblings Max and Ruby, as they join you in re-telling this wonderful magical and musical tale.  "Max and Ruby in The Nutcracker Suite" is happening on the 9th of December 2012 in New York, at the Westbury Music Fair.  Curtains will rise and the magic begins at 4:00 pm.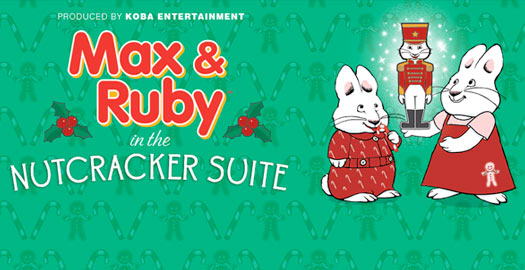 Max and Ruby are those cute and adorable bunny siblings of the animated series.  For over a decade, Max and Ruby enthralled the minds and touched the hearts of pre-school kids, much to the approval of parents and learning institutions.  Each episode is typical a-day-in-life vignette of fun and learning activities and adventures.  The animated TV show is based on the book series written by Rosemarie Wells.
"Max and Ruby in The Nutcracker Suite" is a production under Koba Entertainment. This 90-minute  event opens with a typical Christmas eve scene where Grandma is busy baking ginger bread cookie treats.  Ruby gets a pleasant surprise from their Great Uncle Droselmeyer by receiving a package which contain toys from the story of the Nutcracker Ballet, including a Nutcracker doll!  Grandma proceeds in telling this wonderful story which send their imagination to a wonderland of timeless music of Tchaikovsky, dance, magic, and an exhilarating yet heartwarming adventure.
Give your kids great memories to treasure forever.  This Christmas musical treat is a delightful way for the family to celebrate and feel the joyous holiday spirit.  Secure your spot, buy your tickets now!