NYCB Theatre at Westbury | Westbury, New York
Sell-out stand-up comic, actor, film director, producer and writer Marlon Wayans comes to NYCB Theatre at Westbury on Saturday 21st March 2020 for a night of raw, unfiltered hilarity! The multi-talented performer and artist has been a must-see live comedy act for decades, and was introduced to a new generation with his hugely popular 2018 Netflix special Woke-ish, which detailed his astute, no-holds-barred, laugh-out-loud observations on politics, racism, hip-hop, gay rights, and raising kids! Now, prepare to be shocked, tickled and thoroughly entertained with brand new material from the veteran superstar!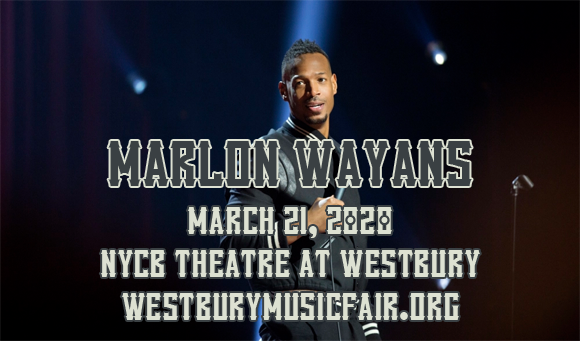 Initially finding fame in the early-1990s with his siblings on the sketch comedy series In Living Color, Marlon Wayans is an American actor, comedian, screenwriter, and film producer. From 1995 – 1998, he co-starred with his brother Shawn in the WB sitcom The Wayans Bros., and in the early-2000s, he was noted for producing the first two films of the Scary Movie series, which he and Shawn also co-wrote and co-starred in. He was also cast in the comedy films White Chicks, Little Man, and Dance Flick, and had a dramatic role in the film Requiem for a Dream. In addition to his acting roles, which have continued over the years, Wayans partnered with former Funny or Die co-founder Randy Adams to create urban comedy digital media company What the Funny, and in 2014, he created the comedy competition television show, Funniest Wins, and began touring with his brothers on "The Wayans Brothers Tour". He also created, produced and starred in the 2016 Fifty Shades of Grey parody "Fifty Shades of Black", and in 2017 he had his own NBC sitcom Marlon, which ran for two seasons.