NYCB Theatre at Westbury | Westbury, New York
Icon of Broadway and hugely successful singer-songwriter Linda Eder comes to NYCB Theatre at Westbury on Friday 2nd March, 2018 for one unmissable evening! This very special event is a showcase of her talents as one of the greatest voices of the era – be awed as Eder seamlessly transitions through an eclectic array of songs, from Broadway to Standards, Pop, Country, and Jazz!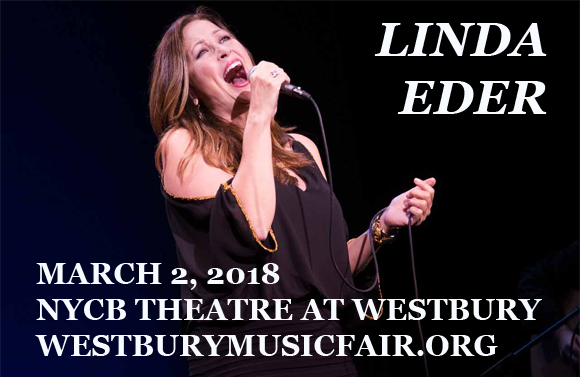 American singer and actress Linda Eder's career began in 1988, when she won the talent competition Star Search, which led to her signing a deal with RCA Records. As a result of winning the contest she also landed a starring role in Frank Wildhorn's Broadway production Jekyll and Hyde, originating the role of Lucy, for which she was nominated for the Drama Desk Award. Eder also starred in two 1991 stagings of Wildhorn's musical Svengali (the 1990 world premiere and 1995–96 national tour), and the 2003 World Premiere of Camille Claudel. She has released 15 solo studio albums throughout her career, and has appeared on 12 musical albums. A celebrity favorite, Eder has made regular appearances on The Rosie O'Donnell Show and Live with Regis and Kathie Lee and the Late Show with David Letterman over the years.