Westbury Music Fair | Westbury, New York
Could there be anything better than a night full of laughter and music? Two iconic figures in the field of entertainment are set to bring you the most extraordinary amusement. Catch the stand-up act of "The Queen of Comedy" Joan Rivers with special guest Grammy Award-winning vocalist Steve Tyrell on October 11, 2013 at the Westbury Music Fair in New York.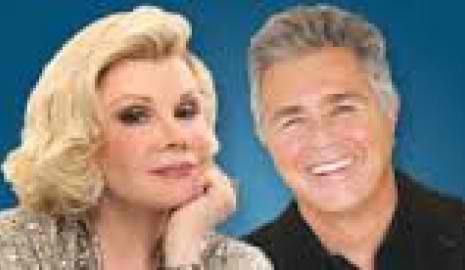 Joan Rivers have established an incredibly prominent name in the showbiz industry as a film director, actress, best-selling author, TV personality and a renowned comedian. She's been quite a celebrity for more than five decades which made her worthy to be considered as a comedy legend and be referred to as The Queen of Comedy. She earned a star on the Hollywood Walk of Fame in 1990 and won the Daytime Emmy as Outstanding Talk Show Host for "The Joan River Show. Her comedy acts are always bursting with contagious energy and hilarious riffs about Hollywood celebrities, pop culture, reality TV as well as herself! Joan is currently engaged in various projects such as the American reality documentary TV series "Joan & Melissa: Joan Knows Best?" on WE tv.
Steve Tyrell has been enjoying a successful music career for over four decades. He's the charismatic voice behind the repertoire of classic hits such as "The Way You Look Tonight", "The Simple Life", "Crush On You" and "The Sunny Side Of the Street". His debut album "A New Standard" was one of the best-selling jazz albums for more than five years. Tyrell's collection of innumerable awards includes a Grammy, Daytime Emmy, Lifetime Achievement Award and a lot more.
This is a one-off experience you should never miss. Get your tickets before it runs out!