NYCB Theatre at Westbury | Westbury, New York
Joan Baez needs no introduction as one of the major folk singers to come onto the scene during the legendary time of Woodstock, frequently joining Bob Dylan on stage and performing as a solo artist. Her angelic yet haunting voice pierces through any talking or sound and grabs every person's attention in the audience so it's no wonder she has formed such a strong career.
Come and join this unmissable evening with Joan Baez and enjoy songs such as "Diamonds and Rust" live at the NYCB Theatre on Wednesday 12th October 2016!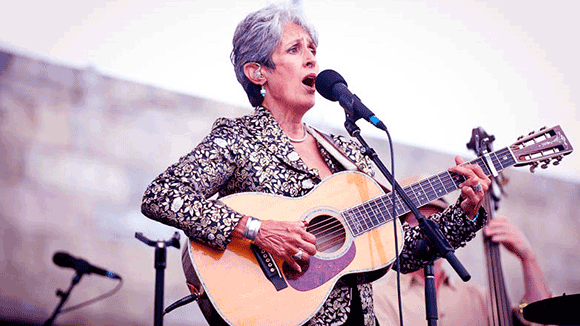 Joan Baez's career begun right in the middle of the folk music revival, encouraged by popular side by artists such as the Kingston Trio and the Easy Riders, as well as up-and-coming ensembles such as the Highwaymen. As well as the groups, female singers were in focus for the first time in the genre like Ronnie Gilbert, Malvina Reynolds, both a lot older and wiser than Joan. At just 19, she brought out her debut album – out came this voice that fans described as "from heaven, a soprano."