Westbury Music Fair | Westbury, New York
Have you ever tried over a thousand-and-one diet programs yet none of them work? Why are you too lazy to workout?  Does genes have something to do with your body weight?  How can you curb those junk food cravings? How do you fight diet and exercise procrastination? How can you feel awesome inside and out?… These are just some of the perennial questions we've been asking about health, diet, wellness, and exercise. You can start your journey towards living a full and healthy lifestyle by joining Jillian Michaels on her 'Maximize Your Life' tour, happening here at the Westbury Music Fair in New York on the 28th of April 2013.  It's high time to lose those pounds and win in life!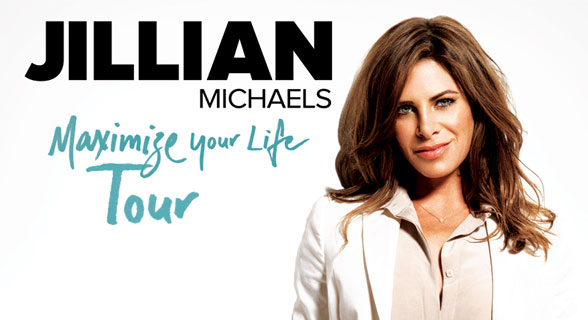 Jillian Michaels has helped America's 'Biggest Losers' become health and fitness winners.  When the NBC reality TV series debuted in October 2004, she was one of the original trainers that pushed and motivated men and women with their rigorous battle with bulge.  In 2010, she debuted 'Losing It with Jillian'– a spin-off of the 'Biggest Loser' which focused on a family for every episode, for a one-on-one coaching from Jillian.
Jillian Michaels stint on TV is only an extension of her health and fitness empire which comprise of weight loss program modules, videos which include Ripped in 30, Extreme Shed and Shred , Killer Buns and Thighs, Kickbox Fastfix, and Killer Abs.  She has also authored books on healthh and wellness which have made it to the New York Times Best Seller list —Master Your Metabolism and Unlimited.  She has also hosted a weekly talk radio show on Los Angeles' KFI (640 AM) from 2006 through 2009; and has a weekly podcast, The Jillian Michaels Show, through iTunes, since February 2011.  Her franchise also include video games for the Wii, Jillian Michaels' Fitness Ultimatum 2009, and the sequel called Fitness Ultimatum 2010, was  launched a year later.  In 2011 Michaels released two more games, Jillian Michaels Fitness Ultimatum 2011 and Jillian Michaels Fitness Adventure for the Xbox 360.
It's high time to move and get the most out of your life.  With Jillian Michaels, losers are the winners; lose those pounds and gain the life you truly deserve.  You've got to move it, move it  because tickets are moving fast.  Get your tickets now!