Westbury Music Fair | Westbury, New York
Have the time of your life and relive those wonderful memories with the music of Jay Black and Bill Medley.  On October 5, 2013, 8:00 pm,  the Westbury Music Fair (NYCB Theatre at Westbury),  Westbury, New York will turn into a salad bowl of great tunes from the golden era of music, as Jay Black and Bill Medley dish out their best-loved hits, burstin' with flavors of doo-wop, rock and roll, and blue-eyed soul music.  See and taste this delightful treat, be there!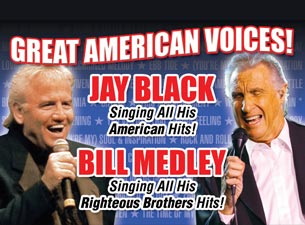 He is known as "The Voice".  Jay Black of Jay and The Americans are one of the premiere groups of the doo-wop era.   At the height of their popularity in the 60s, they enjoyed the adulation of fans, and basked in fame through their numerous hits including "Cara Mia", "Come a Little Bit Closer", and "This Magic Moment".  In his solo career, Jay Black kept his popularity through extensively touring New York and Florida, with his stand-up comedy-music concert routine .
Bill Medley first rose to fame in the 60s, as the other half of the superstar duo The Righteous Brothers.   In 1964, the mega-hit single "You've Lost That Lovin' Feelin'", produced by Phil Spector, made them a household name.   Follow-up hits included "(You're My) Soul and Inspiration" and "Unchained Melody".  Several decades after, his songs were heard in big screen and exploded in the airwaves once again.  "You've Lost That Lovin' Feelin'" made a comeback through the movie "Top Gun"; while "Unchained Melody" became a massive hit from the movie "Ghost".  Then in 1997, everybody's hips went swaying with the infectious dance hit  "(I've Had) The Time of My Life" (duet with Jennifer Warnes),  the theme song from the  Dirty Dancing soundtrack album, which  reached number one on the Billboard Hot 100.
Relive wonderful memories. Sing-along and dance the night away with everlasting melodies.  This is one nostalgic music trip that you ought to take in this lifetime.  Book your tickets now!