NYCB Theatre at Westbury | Westbury, New York
Climb the stairway to rock n' roll heaven as a true-blooded Led Zeppelin-rock royalty brings back the Led Zeppelin legacy back on the live stage. Jason Bonham's Led Zeppelin Evening at NYCB Theatre at Westbury on Saturday 30th November 2019 is the closest thing you'll ever get to an evening filled with nothing but Led Zep hits — "Rock and Roll," "Babe, I'm Gonna Leave You," "Black Dog," "Good Times Bad Times," "What Is and What Never Should Be," "Over the Hills and Far Away," "The Ocean," "Since I've Been Loving You," "When The Levee Breaks", "Stairway to Heaven", and more! Jason Bonham, a true heir by blood and by talent, is sitting on the throne, pounding and bashing the drums and delivering the hits is as good as it gets! Book your tickets now!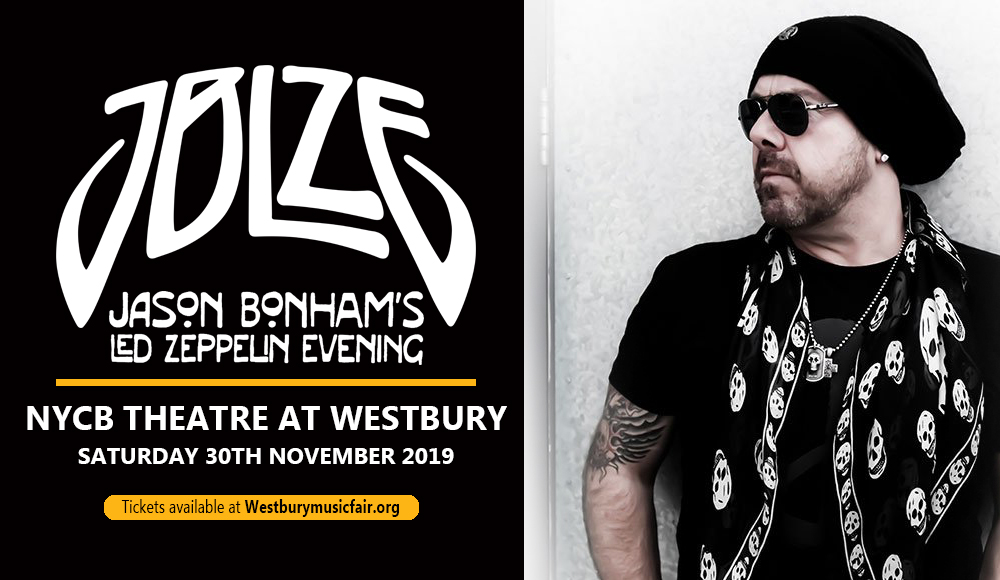 John Bonham, recognized by many as one of the greatest drummers of all time, was irreplaceable to members of Led Zepellin. Hence, with his early demise, the band felt that without John, there was no sense carrying on…And fans felt a void and were left hungry for the music, until…
Iconic hard rock n' roll band Led Zepellin's drummer has passed on his legacy to a good hand who has been taking care of the family business. With the blessings of the tight-knit Led Zep members, Jason Bonham, is now carrying the torch and keeping the music and the Led Zepellin experience burning in numerous live concert stages all over the world.
Jason Bonham was a prodigious talent who could hit the skins and bang the beat of the drums at the age of five. He appeared with his father in the film "The Song Remains the Same", drumming on a scaled-down kit. As his father passed away in 1980, Jason was faced with the circumstance that he has big shoes to fill in. He took on the drummer's seat at the Atlantic Records label's 40th Anniversary Celebration, where a reunited Led Zeppelin with Jason on drums, led the show to a rousing finale. He also join the band in London's O2 arena as part of an all-star tribute to Ahmet Ertegün.His performance was described as "flawless" by music critics.
In February 2009, Jason Bonham and James Dylan began working on the makings of what we now know as "Jason Bonham's Led Zeppelin Evening" — a continuous touring band paying homage to the glorious times and the music of Led Zeppelin. And from there, the rest is a continuous flow making history…
If you were not lucky enough to be around during the rock and times of Led Zeppelin, then the gods of rock must've put to this together for present and future generations to enjoy and experience. What are you waiting for? Book your tickets right here, right now!