Westbury Music Fair | Westbury, New York
Yearning to bring back the moment of your youth? Your wish is about to come true as the five classic rock icons will unite once again to relive blissful thoughts of the past! Join THE TURTLES featuring Flo and Eddie, GARRY PUCKETT & THE UNION GAP, CHUCK NEGRON, MARK LINDSAY, GARY LEWIS & THE PLAYBOYS on their "Happy Together Tour" on June 21, 2013 at the Westbury Music Fair in New York. Show starts at 8:00 PM.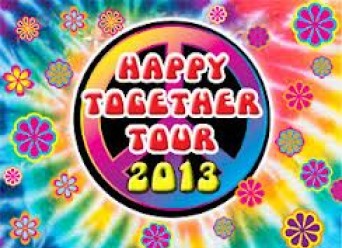 The incredibly nostalgic Happy Together Tour has been a consistent crowd-pleaser for four consecutive years, unswervingly bringing off their hit songs from the 60's and 70's. All your wishful anticipations will be fulfilled as they start to fire up the stage with the awesome performance of their hits including; "Happy Together" and "She'd Rather Be With Me" by The Turtles, "Kicks" and "Hungry" by Mark Lindsay, "Young Girl" and "Woman, Woman" by Gary Puckett and The Union Gapp, "This Diamond Ring" and "Count Me In" by Gary Lewis & The Playboys and "One (Is the Loneliest Number)" and "Joy to the World" by Chuck Negron of Three Dog Night. The concert will rekindle the cherished memories through melodies of their timeless music.
Sing your heart out, dance the night away with your favorite classic rock anthems, and BE HAPPY TOGETHER! Book your tickets for you and your love ones now!