NYCB Theatre at Westbury | Westbury, New York
EVENT RESCHEDULED TO SATURDAY 11TH JUNE 2022. Originally Saturday 12th June 2021. All original tickets are still valid!
Music from that hippy-summer-of-love always brings people together, and this still holds true to this day. The Happy Together Tour is still rocking and swinging all those baby boomers to this day, and they've also taken gen-Xers, millennials, and even Y-gens in for the ride on this musical journey that has been on the road for eleven years in a row. This summer of 2020, the Happy Together Tour will come cruisin' once more and will park for a night of classic rock jammin' here at the NYCB Theatre at Westbury on Saturday 13th June 2020. This tour is headlined by The Turtles, who also act as musical hosts, will be joined by Chuck Negron (Three Dog Night), The Association, Mark Lindsay (Paul Revere & The Raiders), The Vogues and The Cowsills. Before you hop in, make sure you've got tickets. Click 'buy tickets' on this website. Don't miss the Happy Together tour bus! It's gonna be the ride of your life!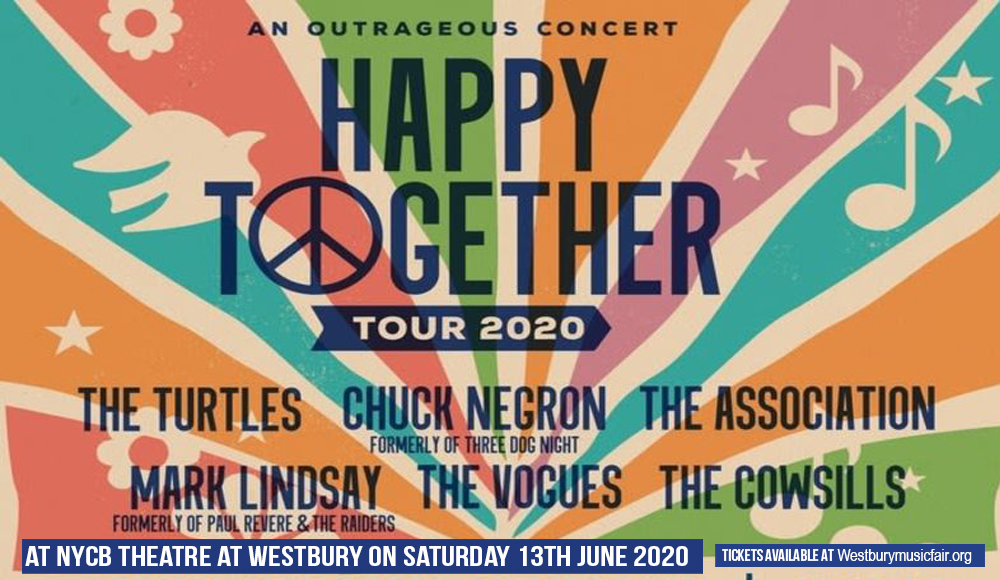 A tour that features some of the best-loved acts with chart-topping hits from the '60s and '70s –FIFTY-NINE Billboard Top 40 smashes to be precise. No wonder, the Happy Together Tour has been smashing the live concert circuit for over a decade now. Eleven happy years is what we're celebrating in this Happy Together Tour happening at the NYCB Theatre at Westbury on Saturday 13th June 2020.
And here are the artists and bands that would put a perma smile on your face and get you whistling along to their hits…
Headliner act and the show's hosts will be The Turtles, prime movers of the California sound of the 60s and 70s, and churned out colossal hits like "Elenore," "She'd Rather Be With Me," "It Ain't Me Babe," "You Showed Me" and the title of the tour, "Happy Together".
Three Dog Night scored an impressive twenty-one Top 40 singles and twelve consecutive gold albums in the late '60s/early '70s. Hence, it will be such a treat to see Chuck Negron, former lead vocalist of Three Dog Night, hit the stage with his outstanding lead vocals on such global hits as "Joy To The World," "One," "Mama Told Me Not To Come," "Black & White," "Shambala," "An Old Fashioned Love Song," "Easy To Be Hard," "Eli's Coming" and more.
One of the 60s act truly cherished to this day are The Association. They have a roster of #1 hits to their name, which include "Cherish," "Windy," "Never My Love" and "Along Comes Mary".
Billboard Magazine named them "The Most Listened to Band in America." With their #1 hit "Kind of a Drag," and other hits "Don't You Care," "Mercy, Mercy, Mercy" and "Hey Baby, They're Playing Our Song", it would surely be a thrill to see The Buckinghams back on the tour!
The act that inspired the smash hit '60s television show, "The Partridge Family" are the harmonious family act (two brothers and a sister), The Cowsills. They're rounding out the evening with their best-known songs, "Hair," "Indian Lake," "The Rain, The Park & Other Things (I Love The Flower Girl)" and more.
Forget your woes and worries. Happy Together Tour is definitely a happy pill! Book your tickets now!