Westbury Music Fair | Westbury, New York
The gods of rock have come down from the heavens to give rock music minions an earth-shaking moment in music history…'Hammer of The Gods: The Led Zeppelin Experience' will coming rocking the halls of the Westbury Music Fair on November 22, 2013, 8:00 pm. This is no time machine.  It's a real, larger-than-life experience that will bring back the music and the story behind  the greatest gods of rock that ruled the earth — Led Zeppelin.  Experience the spectacular sound, lights, and multi-media restrospective on the band.  You won't believe it — this is not a resurrection, it's just an experience that is so hauntingly brilliant!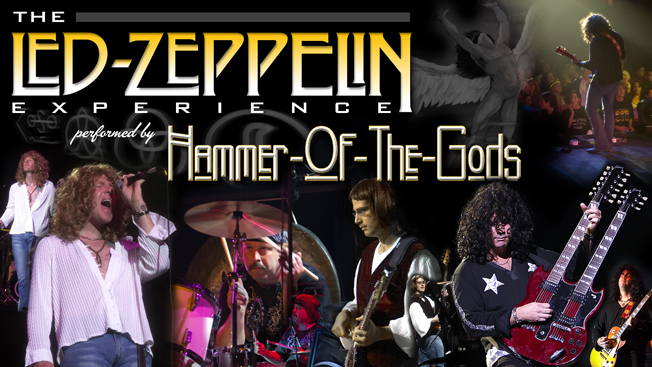 The New York Times says, "It's a hot ticket!"   Skeptical fans have converted and believed.  "Thirty seconds into the show I was in awe. Nothing could have prepared me for this experience. If someone told me I would be seeing Led Zeppelin live right before my eyes I would have said they were crazy. I was wrong. I can't wait to see them again!"
For the past 40 years, rabid fans can't still get enough of Led Zeppelin.  Tribute bands have sprung up everywhere, yet not all can guarantee an experience.  'Hammer of The Gods:  The Led Zeppelin Experience',  have not only satisfied Led Zepp fans, but they have brought zeal and enthusiasm to a new generation of fans.  Composed of ultra-talented musicians,  Hammer of the Gods has breathed new life into the music and stories that bring tinges of nostalgia.  Their hauntingly close-to-real renditions and superb audio-visual executions show their painstaking commitment to deliver an awesome rock experience for all.
Go and pinch yourself;  this is not a dream…this is an experience you should not miss, ever!  Go get your tickets now!